The Five of Pentacles Tarot Card's True Meaning: Love, Health and Money
This card is a warning to re-evaluate your priorities as you are on the brink of experiencing a substantial loss and all the pain that comes with it.
In order to mitigate the serious life issues coming down the pipe you'll need to be rational about what's most important to you and what can be placed on the back burner for the time being.
Element: Earth
Planet: Mercury
Astrological sign: Taurus
Key dates: April 21st – April 30th
Visual Elements and Symbolism
The Five of Pentacles card in the Rider-Waite deck depicts two people walking through a snow storm. They are both in a bad way — one is on crutches while the other is barefoot, wearing nothing but a thin blanket to protect himself from the weather.
Behind them is a church, offering a warm, welcoming environment to escape the ravages of the storm and a symbol of hope, faith and spiritual support. However, they fail to see this beacon of light as they are blinded by their current situation and as such, continue along in their desperate journey unabated.
The Five of Pentacles as a Person
The Five of Pentacles as a person is often an outsider who tends to be among the more unfortunate members of society. They're usually unlucky in life, have little income and few if any opportunities to change their situation and thrive. This typically fosters a pattern of negativity towards themselves and many aspects of their life.
This person feels something vital is missing in their lives, however, they don't know how to change it. They are often overwhelmed and require help from others to stay afloat.
upright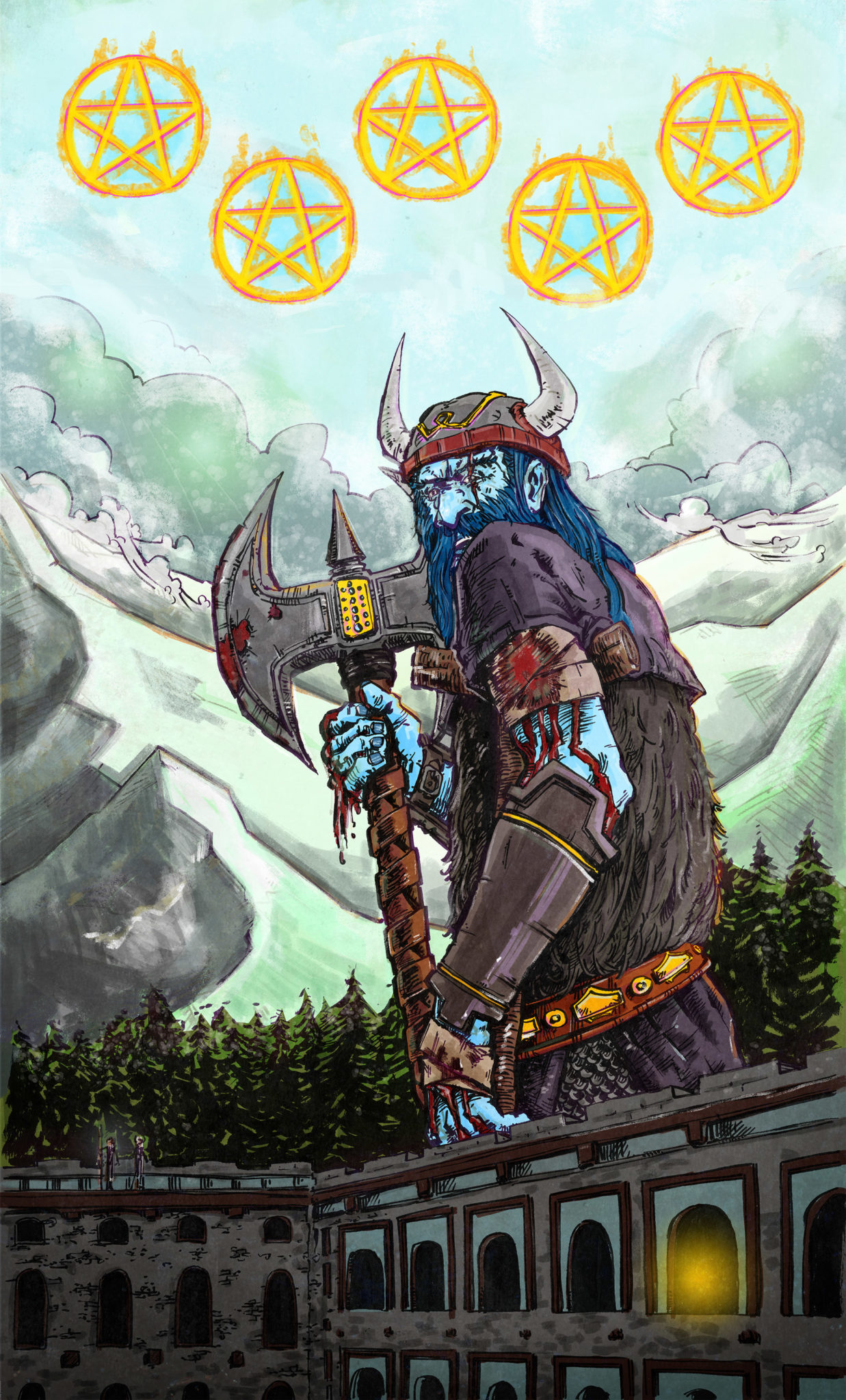 The Five of Pentacles Upright: Positive Meanings
In the upright position, the Five of Pentacles represents financial loss and hardship as well insecurity as it pertains to health.
Despite your anxiety about all the things going wrong in your life, they will only improve if you make the effort to improve them. Consider seeking professional guidance to help dig yourself out of this hole.
Love and Relationships
If you're in a relationship, you're likely feeling abandoned, unloved or ignored. Your partner may have left you with little explanation and you're now out in the cold.
This destabilization is only adding to the anxiety you've been experiencing as of late. It's possible that your financial struggles and health issues are what convinced your partner to leave you. Consider this as a sign that it's time for you to start bettering yourself. But first, you'll need to figure out what's at the root of your problems and start addressing them.
Career
It's likely that you've lost your job in recent months or your business has gone under. This loss has severely damaged your self-esteem.
Understand this is not a permanent situation and that the sooner you pick up the pieces and rebuild, the sooner you'll have everything in your life back together again.
Money
You will experience financial hardship for the next little while so expect money to be tight. If your struggles persist, this card can represent homelessness, poverty or bankruptcy. Make sure to be frugal with any money that does come your way, as it will be scarce.
Health
Your health is likely to suffer in the coming months. These health issues are directly related to the stress in your life. Remember that no matter how hard life may seem, it will only be harder if you allow your health to suffer.
Staying in a positive and healthy state of mind will help cushion the blows you'll soon be facing.
reversed
The Five of Pentacles Reversed: Negative Meanings
In the reversed position, the Five of Pentacles can bring light into the darkness you've been experiencing. Life has thrown you all the bad it can possibly throw at you — you're now coming out on the other side. Recovery and stability are to be expected.
Love and Relationships
If you're in a relationship, this card points to struggles that have been draining you and your partner. Your troubles are coming to an end, but the outcome may not be what you expect. This could mean compromising and working on your relationship together, or choosing to part ways for a fresh start.
If you're single, your period of loneliness and isolation is coming to an end. It's time to put yourself out there and find someone who will complement your life and personality.
Career
The hardships you've been experiencing in your career are coming to an end. New opportunities will present themselves, putting you back on the right path and allowing you to regain some of the confidence you've lost.
Money
As your career improves, so will your finances. You'll soon start regaining some financial stability, which will remove a huge burden from your shoulders. Remember, just because you have some money doesn't mean you should spend it. If you've learned anything from your financial hardships, you'll put half of everything you earn towards your savings.
Health
The mysteries of your health will be made sense of and resolved. Illnesses will be properly diagnosed, putting you back on track for a healthy future — just so long as you continue to take care of yourself and listen to your what your body is telling you.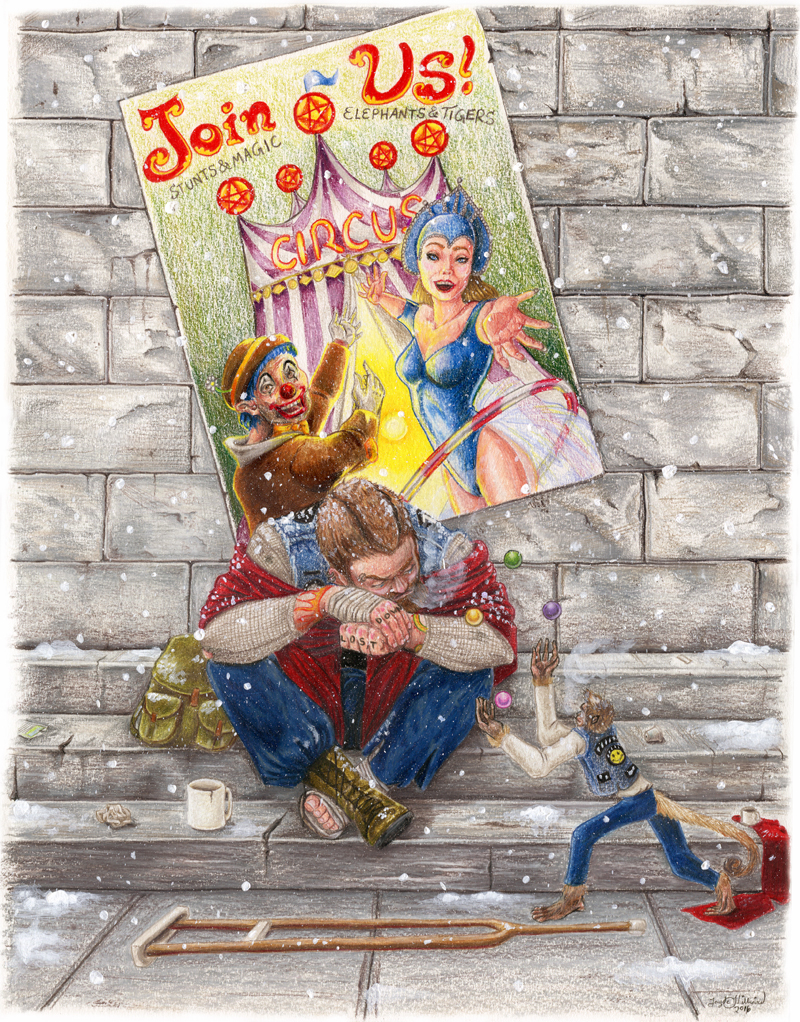 spreads
Your Past, Present, and Future
In the past position, the Five of Pentacles suggests that recent emotional and financial loss is weighing heavy on your mind. Don't allow your pride to get in the way of asking for help when you need it. Your tendency to isolate yourself rather than reach out to others will likely put you in a worse position moving forward.
In the present position, it indicates that the hardships you've experienced and continue to experience will soon be a thing of the past. Don't allow these feelings of defeat to fester and create long-term insecurities in your life.
In the future position, this card indicates that good things are destined for you as long as you find the motivation to make them happen. The harder you fight to change your life, the more rewarding success will feel at the end of the day.
Important Card Combinations
When cards are placed in combination, they feed off each other to create a more well-rounded reading. In some cases, the cards paired with the Five of Pentacles will challenge the inherent traits that it possesses.
Five of Pentacles and Tower
The Tower card represents conflict. As such, this combination implies that you have the power to change your life's direction so long as you push hard enough to fight against the obstacles thrown in your way.
Five of Pentacles and Justice
This combination indicates that you've reached a crossroads and there's no going back now. You have the choice of choosing or rejecting hope. The Justice card implies that the decision you make will ultimately dictate your future successes or failures.
Five of Pentacles and Emperor
The Emperor suggests that a power struggle is at play. This pairing should serve as a warning that your stubborness and inability to ask for help will only lead you down a losing path.
Five of Pentacles: Yes or No Questions
The Five of Pentacles indicates the arrival of emotional and financial troubles and bad luck in general. Major setbacks are all associated with this card, which may ultimately cause you to lose faith in yourself and in life. The tone of this card is negative and therefore, the answer is a loud "no".