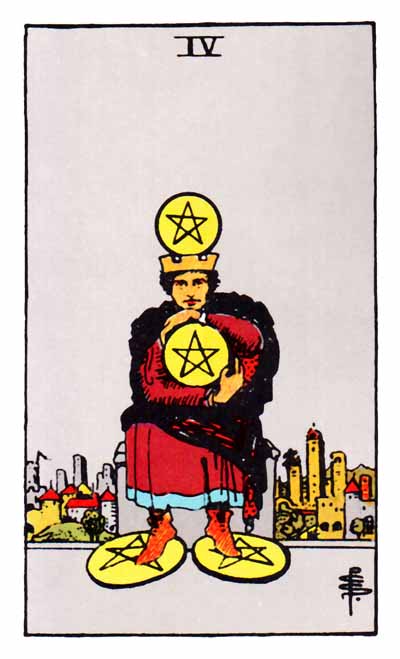 The Four of Pentacles Tarot Card's True Meaning: Love, Health and Money
The Four of Pentacles is a sign that you need to let go of something that's compromising your happiness and growth as a human being. This could be a bad relationship, your current job, or any number of ugly memories or past issues that continue to haunt you.
You could be hanging onto things because they offer you a certain sense of security — even if inside you know it to be false.
This Minor Arcana card can also represent greed, stinginess, and materialism, indicating that a lack of openness is slowing down your progress in life.
Element: Earth
Planets: Uranus, Saturn
Astrological signs: Scorpio, Aquarius, Capricorn
Key dates: January 10-19
Visual Elements and Symbolism
In the Rider-Waite deck the Four of Pentacles card depicts a man wearing a crown, sitting on a stool. He is tightly holding onto pentacles in a defensive manner, as though he is protecting or possibly hoarding them.
One pentacle is balanced on his head, another gripped in his hands, and two more are securely located beneath his feet. Although they are well protected, he is holding his coins so tightly that he is effectively in restraints, incapable of moving lest he lose his grip on them.
In the background is a city skyscape, symbolizing opportunity, while his crown represents wealth and status, something which is further amplified by the stage his stool has been placed upon.
The coins beneath his feet symbolize material possessions, while the coin on his head represents mastery and authority here on earth. The colors of his clothing, a red robe with a blue trim, are symbolic of passion and contemplation respectively.
The Four of Pentacles Card as a Person
People represented by the Four of Pentacles tend to be driven individuals, motivated by money and material success. They can be headstrong and difficult to work with as they're typically confident that they're smarter, better-looking, and superior to most others around them.
They're often stubborn and controlling, resistant to the advice their friends and family offer them, and in spite of their many talents and relentless ambition, are far less successful in their personal relationships than they are with financial pursuits.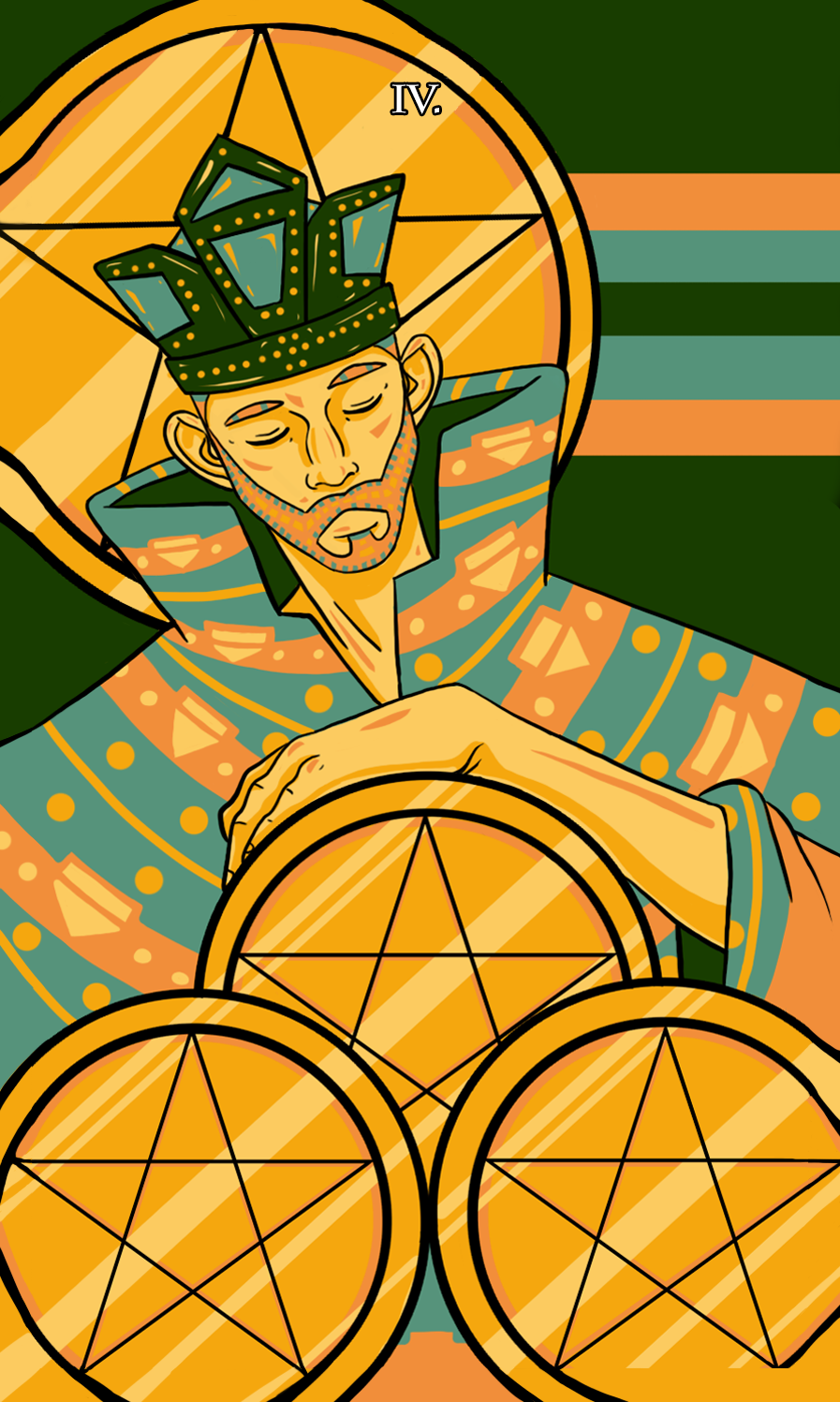 upright
The Four of Pentacles Upright: Positive Meanings
The Four of Pentacles is closely associated with money, and one's relationship to it. This card suggests that you place too much importance in material things, or that you're being reckless with your finances.
Ultimately, the big question you need to consider is whether your sense of self-worth is tied to how much money you earn, how big a house you live in and which car you drive. The Four of Pentacles is telling you to appreciate your money, but don't become so attached to material wealth that you lose sight of the truly important things in life: purpose, time, health, and our relationships.
Love and Relationships
The Four of Pentacles is not a great card to receive in a love reading. It can represent several things, with few of them being especially positive. It suggests money could be the driving factor of your relationship and that you may be hanging onto it for financial security, or worse, out of greed.
Similarly, your partner may be far more interested in your wallet than in your company. This applies equally whether you're currently in a relationship or seeking one: one party's primary interest in the other is their money — rarely a positive sign in a loving relationship.
Career
In a career reading the Four of Pentacles denotes big money in well-established companies. While this could certainly be a positive, at the same time the card indicates that you could be unhappy with your career in general.
If your paycheck is the only motivation you have to wake up every morning and head into work, it might be time to consider just how important money is to your overall happiness and possibly look for a change of employment.
Money
The Four of Pentacles indicates that your financial situation is stable and will remain that way, but it's not likely to improve. As such, it might not be a bad idea to take a few dollars and invest in something you would normally consider to be too much of a long shot or too risky.
While you obviously need to be prudent and responsible, you can afford to be a little less conservative with your financial portfolio if you'd like to make any significant returns.
Health
Your physical health is in order, but your emotional health is a different story. This card is a sign that you need to get over your past issues and move on with your life.
You may be hanging on to old grudges that long ago ceased to be relevant. Learn to live without regret, as these regrets could lead to unhealthy physical practices as well — smoking, drinking, taking drugs, and eating for emotional comfort are all potential vices you need to watch out for.
reversed
The Four of Pentacles Reversed: Negative Meanings
In a general context, the reversed Four of Pentacles indicates that you are finally ready to let go of past issues that have been compromising your happiness and well-being for years.
As such, you are evaluating your relationships and ending those that have been toxic and causing you misery, all the while learning how to relax and better deal with your insecurities.
The Four of Pentacles in the reversed position can also represent the loss of something very dear to you due to fraud, or worse, to gambling, substance abuse or other reckless behaviors you are prone to engage in.
On a more positive note, drawing an upside-down Four of Pentacles can also imply that you've learned to curb your need to control people and situations — go with the flow and take life as it comes to you.
Love and Relationships
When it comes to love, finding the Four of Pentacles reversed in your spread serves as a very good omen. If you've been in an unhealthy marriage it indicates that you're taking the steps necessary to free yourself of this toxic relationship.
You are gradually lessening your insecurities about your physical appearance and no longer fear the unknown as you once did. One result of this is that you're starting to lose your fear of rejection, to the point where you feel comfortable enough to open your heart and just be yourself around those who interest you romantically.
Whether you're single or in a relationship, the most important thing to take away from your love reading is that your approach to romance is changing — and for the better.
Career
Drawing the Four of Pentacles reversed in a career reading implies that you're far too concerned with job security. There's no good reason for this: your work is always acceptable or better, and you're well-liked and respected by both your superiors and underlings.
This irrational worry about possibly losing this job is counterproductive, and eventually your output will suffer as a result of it. You need to step back, get a grip, and just do your work as you always have. Even if you did somehow lose your present employment, you would find a new and quite possibly better job with relative ease. Stop worrying.
Money
In a money spread, the Four of Pentacles reversed indicates parting with a great deal of your wealth. This could be the result of fraud, reckless behavior like gambling, or risky investments of the 'get rich quick' variety. Regardless, financial insecurity and instability are the ultimate result, and it could potentially take many years to make up for your losses.
On the other hand, the Four of Pentacles reversed could also mean that you're low on funds because you just made a major purchase, such as buying a house or a new car, and have applied your savings towards the downpayment, perhaps leaving you cash-poor but far from destitute.
Health
When the Four of Pentacles is reversed in a health reading it can indicate that you're gradually getting a grip on the powerful emotions of loss and despair you've been experiencing lately. This in turn will greatly improve your physical health, which you've been neglecting as a result of these trying times.
Your physical condition will continue to improve as you come to terms with the trauma you've experienced. Many of those aches and pains you've been worrying about are in fact psychosomatic, as will be fully apparent to you in due time.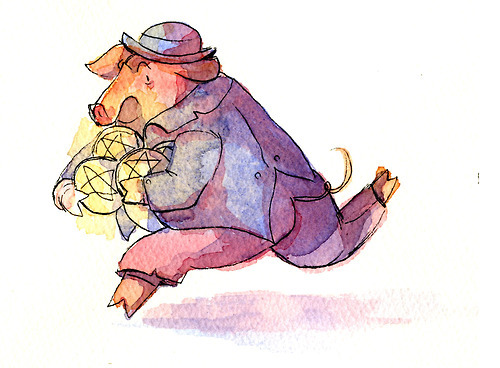 spreads
Your Past, Present, and Future
In the past position, the Four of Pentacles implies that sll the hard work and dedication you've put into a certain project will be paying off soon. This could be something you started years ago and has been left on the back burner ever since, essentially forgotten about. The reward is likely to be of the financial variety.
In the present position, it suggests that you continue holding on to some material thing (or things) that you once deemed to be crucially important but hasn't been relevant to you in ages. You need to reevaluate what's truly important to you, with money and material wealth being only one element among many.
In the future position, the Four of Pentacles means that you are uniquely positioned to enjoy major success in a very challenging field. However, doing so will require you to devote a huge amount of effort and concentration to the endeavor, which you may not care to do. The choice is yours to make.
Important Card Combinations
As with all spreads, their interpretation can be dramatically different depending on the position of the cards spread out beside them. Here are a few interpretations to take away from the following key card combinations.
Four of Pentacles and High Priestess
The Four of Pentacles, when it appears in a reading next to the High Priestess, tells of the need to be absolutely certain of all aspects before committing yourself to anything, as there are many hidden undercurrents at this time. You should of course investigate any and all propositions, but do not sign or commit to anything until you are totally certain.
Four of Pentacles and Tower
The Four of Pentacles appearing next to the Tower card foretells of upheavals and the possibility of great loss. Do not allow others to influence or manipulate you in any way. Tend to your own affairs.
Four of Pentacles and Ace of Wands
The Ace of Wands tells you to seize the moment. This pairing suggests that a new financial opportunity is in the offing.
Four of Pentacles and Wheel of Fortune
The Four of Pentacles, when it appears in a reading next to the Wheel of Fortune, brings a message that you will have success in all that you undertake at this time. It is a positive sign to go forth with your plans.
Four of Pentacles and Seven of Pentacles
The Four of Pentacles appearing next to the Seven of Pentacles is a message to proceed with your plans and goals, as success is all around you. Take advantage of this prosperous time.
Four of Pentacles: Yes or No Questions
Because the Four of Pentacles stands for security, balance and financial stability, your answer is yes.