The Knight of Cups Tarot Card's True Meaning: Love, Health and Money
Finding the Knight of Cups in a spread indicates that you are moving forward in life with your integrity intact.
This card also signifies kindness, affection, warmth and platonic love, representing the manifestation of grace under pressure, of diplomacy and positive compromise reigning supreme over coercion and brute force.
As with all the court cards, the Knight of Cups likely represents a person in your life, and in this instance, a particularly positive person you are fortunate to have in your immediate orbit.
Element: Water
Planet: Neptune
Astrological sign: Pisces
Key dates: February 9 to March 10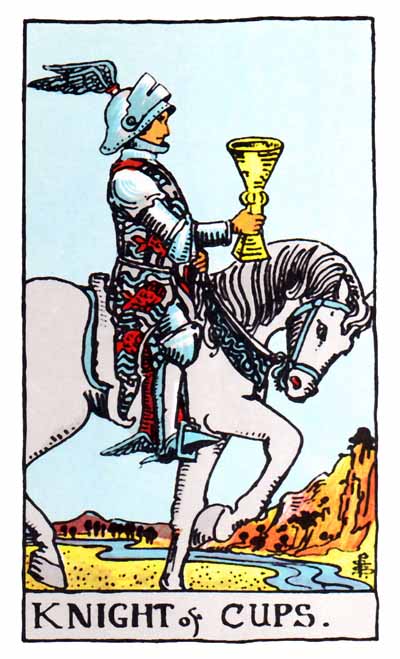 Visual Elements and Symbolism
The Knight of Cups card depicts a youthful knight confidently riding a white horse while carrying a gold chalice, appearing to be a messenger of sorts, possibly with news of a romantic nature.
Rather than proceed at a gallop, man and horse move forward together slowly, providing the scene with an overall sense of peace and calmness. The horse symbolizes drive, energy and power, with its white color representative of spirituality and divine purity.
The cloak the knight wears is adorned with images of fish, symbolizing the spirit, while the wings of his helmet represent freedom. The blue water of the stream he is about to pass through serves as a metaphor for the flow of emotions and the passage of time.
The Knight of Cups as a Person
As a person the Knight of Cups denotes a highly artistic, sensitive soul forever in the act of creation, be it writing a song, a screenplay, a novel, or simply taking notes on their phone for some as yet unrealized creative endeavor.
Charismatic and likable, Knight of Cups people are incredibly charming when they want or need to be, and tend to have a strong romantic streak in them. This is the sort of person you might meet while travelling, and who unsurprisingly earns their living through the arts.
Knight of Cups people have a tendency to be highly sexual creatures, known for their practically insatiable libidos.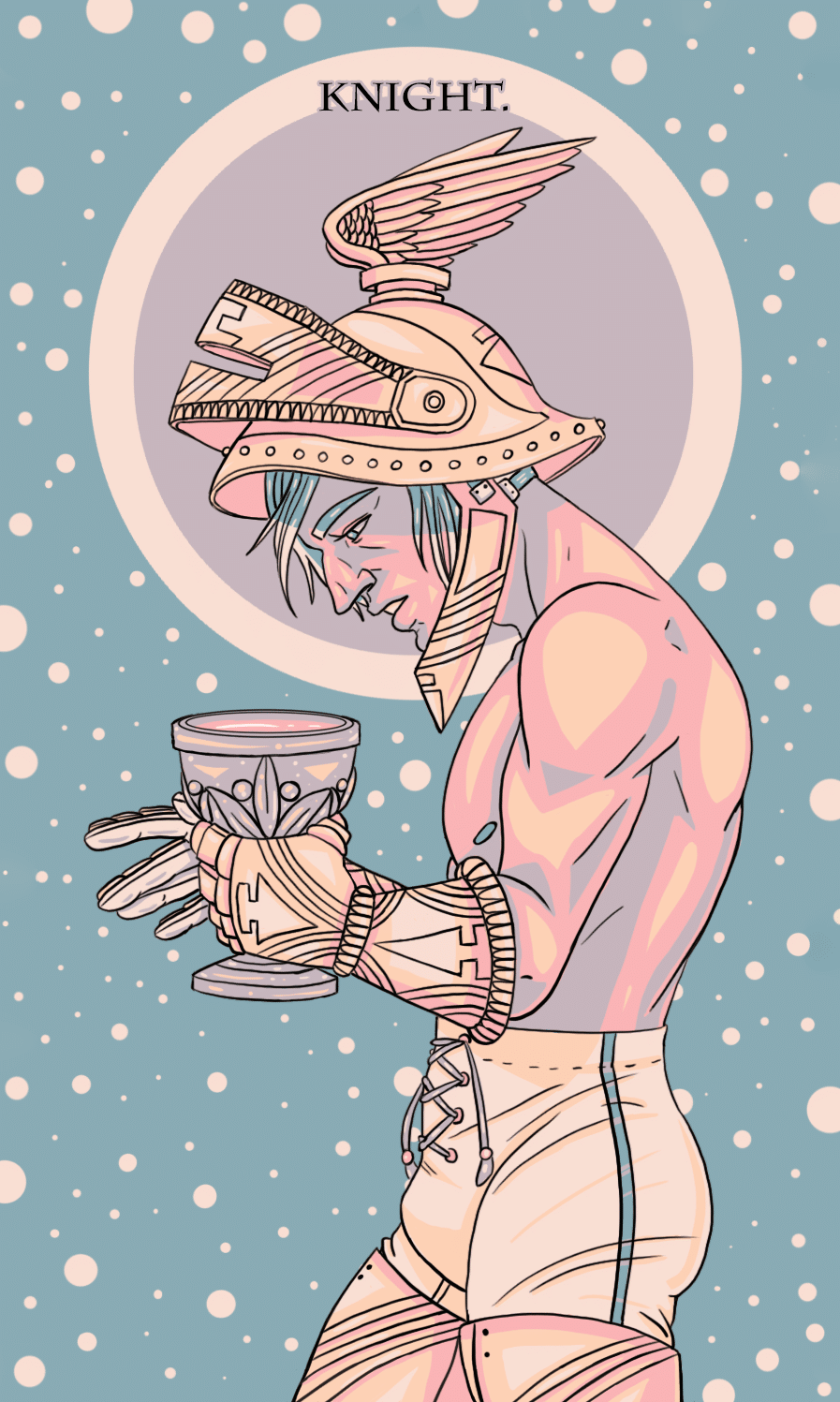 upright
The Knight of Cups Upright
The Knight of Cups represents positive change and new opportunities, denoting that you're moving in the right direction and that the pace of change is gradually amping up.
The wisest approach to take in the face of all this disruption is to always be yourself — trust your instincts and better judgment. You've got a lot more going for you than you tend to realize, so there's no need to wear any masks.
The best impression you'll make on people will come from simply being yourself. Don't second guess your place in the world.
Love and Relationships
If you're single and have had your eye on a certain prospective mate for awhile, it's time to work up your nerve and approach them about getting together romantically. The worst you can do is maintain the status quo, as you could later come to regret it. Even if things don't work out, the experience will have been worth the effort.
Similarly, if you are in a relationship you need to address any underlying issues that be nagging you. Right now is a time for compromise. You possess the clarity and peace of mind to make the kind of positive changes that will strengthen your partnership.
Career
You may be in line for a major promotion at work, which promises to have a positive and significant impact on your entire being.
If you are a content creator or professional artist, you are entering a period of heightened creativity. Now is the time to produce your masterpiece.
Money
The Knight of Cups appearing in a money reading is a particularly encouraging sign of riches to come. While you may not win the lottery (although it's not entirely out of the question either), you can expect to receive a substantial salary increase at your current job, which would be consistent with the promotion you're expecting.
Trust your intuition with all things money-related right now.
Health
In a health context, finding the Knight of Cups in your spread is yet again an excellent omen. If you've been anxiously awaiting to get test results back, rest assured — there's no reason to worry. Your health is fine and should continue to be for the foreseeable future.
reversed
The Knight of Cups Reversed
When the Knight of Cups appears in reverse, you are being warned to be cautious: don't enter into any major commitments without a lot of deliberation first. In other words, you need to look before you leap. Don't take anything for granted.
Love and Relationships
In a love reading, finding the Knight of Cups reversed in your spread is usually a bad omen, possibly portending a sad end to what might have been a beautiful relationship at one point.
It could also signal that your partner is having an affair or coming to grips with their sexuality in ways that can only exclude you. Similarly, it could be that your lover is gradually turning into somebody you don't really like or respect, acting as a death of sorts in that you can no longer reach the person you first fell in love with.
If you're single, remember that when reversed this card can imply an introduction to homosexuality. It further suggests that you've been especially promiscuous in the hope of finding somebody who can satisfy you both sexually and emotionally. You've had little success with this approach so far. This situation is unlikely to change.
Career
The Knight of Cups reversed is a similarly bad omen in a career context. It represents missed opportunities, many resulting from your own debilitating procrastination and frequent periods of chronic indecision.
If you've applied and are waiting for a certain job offer or to hear you've been admitted to a prestigious university, you'd be well advised not to get your hopes up — the Knight of Cups is telling you that nothing of the sort is going to happen.
If any major business decisions must made at this time, more so than ever you need to scrutinize every last detail of your arrangement as you are vulnerable to being cheated.
Finally, it's very possible you are unhappy with your job because you feel it's stifling your creativity. Stick it out for at least six more months before undergoing any major changes to your professional life.
Money
You'll be woe to discover that a large sum of money you've anxiously been awaiting has either been delayed or run into complications. You now fear that you will never be paid in full.
Reversed, this card also suggests that you've been ignoring the source of your money woes for fear of being overwhelmed by the enormity of debt you're carrying. It's time to seek professional advice on how to tackle your financial issues.
Health
You or somebody close to you has been abusing drugs and alcohol to the point where it is negatively affecting their health.
Your lifestyle is taking a far greater toll on your physical and mental health than you probably realize. In addition to toning things down a little, you should visit your doctor for a check-up. Make sure they do all the requisite blood work.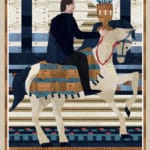 spreads
Your Past, Present, and Future
In the past position, the Knight of Cups represents the unique perspective you entertain with respect to your numerous intellectual pursuits. Your notable strength and confidence have enabled you to keep your integrity intact when confronted with the doubt your colleagues frequently express about your specific approach to problem-solving.
In the present, the Knight of Cups suggests that you are about to be invited to a very prestigious event. Prepare to make exciting new connections.
In the future position, this card urges you to stay focused on your short-term goals — your long-term strategy will fall into place naturally. You are on the verge of making a deep and meaningful friendship that will remain so for the rest of your days.
Important Card Combinations
The Knight cards of the Minor Arcana always represent changes in life. More often than otherwise, the messages the Knight of Cups delivers are positive and exciting.
Knight of Cups and Page of Wands
The Page of Wands represents a passionate and energetic person. When combined with the Knight of Cups, it suggests that you will be receiving a lot of romantic and sexual attention.
Knight of Cups and Hanged Man
Despite its seemingly macabre undertones, the Hanged Man isn't necessarily a negative sign. This pair represents innovation being introduced to a specific project.
Knight of Cups and Chariot
The Chariot is generally viewed favorably in any spread. This combination may represent the blossoming of a loving relationship, or a positive event in a long-term commitment.
Knight of Cups and Seven of Swords
When paired with the Knight of Cups, the Seven of Swords is a sign of commitment issues in a romantic relationship.
Knight of Cups: Yes or No?
Because of the Knight of Cup's good nature and tendency to deliver news of positive events and opportunities, the answer you're looking for is yes.