The Nine Of Cups Tarot Card's True Meaning: Love, Health and Money
The Nine of Cups card represents wishes coming true. After a long stretch of dissatisfaction, this card assures you that everything you've worked so hard for will be achieved to the fullest.
You will reach a level of contentment unlike anything you've ever known before, especially when the Nine of Cups is found in the future position.
Element: Water
Planet: Jupiter
Astrological sign: Pisces
Key dates: March 1st to March 10th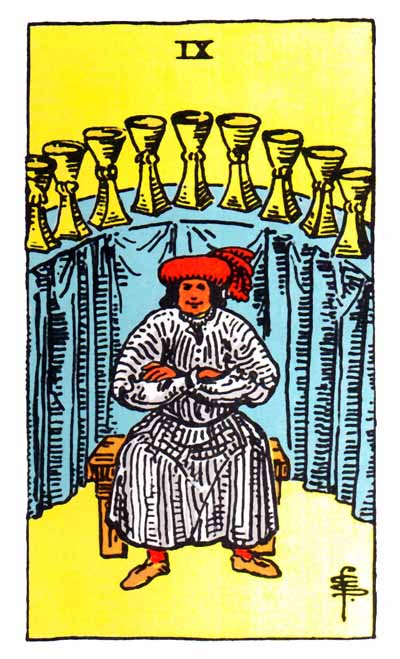 Visual Elements and Symbolism
In the Rider-Waite deck, the Nine of Cups depicts a man sitting down on a wooden bench with his arms crossed. He appears satisfied, with a slightly smug look on his face. The nine cups forming an arch above him represent emotional fulfillment and deep satisfaction from having accomplished his goals.
The Nine of Cups as a Person
This card represents someone who loves life and lives it to the fullest. This person thinks very highly of themselves. It's hard to say whether it's their confidence that consistently leads them to success or if it's the other way around, but either way the Nine of Cups always gets what they desire. They are big on appearances and tend to lead lives marked by indulgence in every imaginable way.
This isn't just some facade they present to others — they are truly happy and comfortable in their own skin. As a result they are carefree, loving people with a positive outlook on life.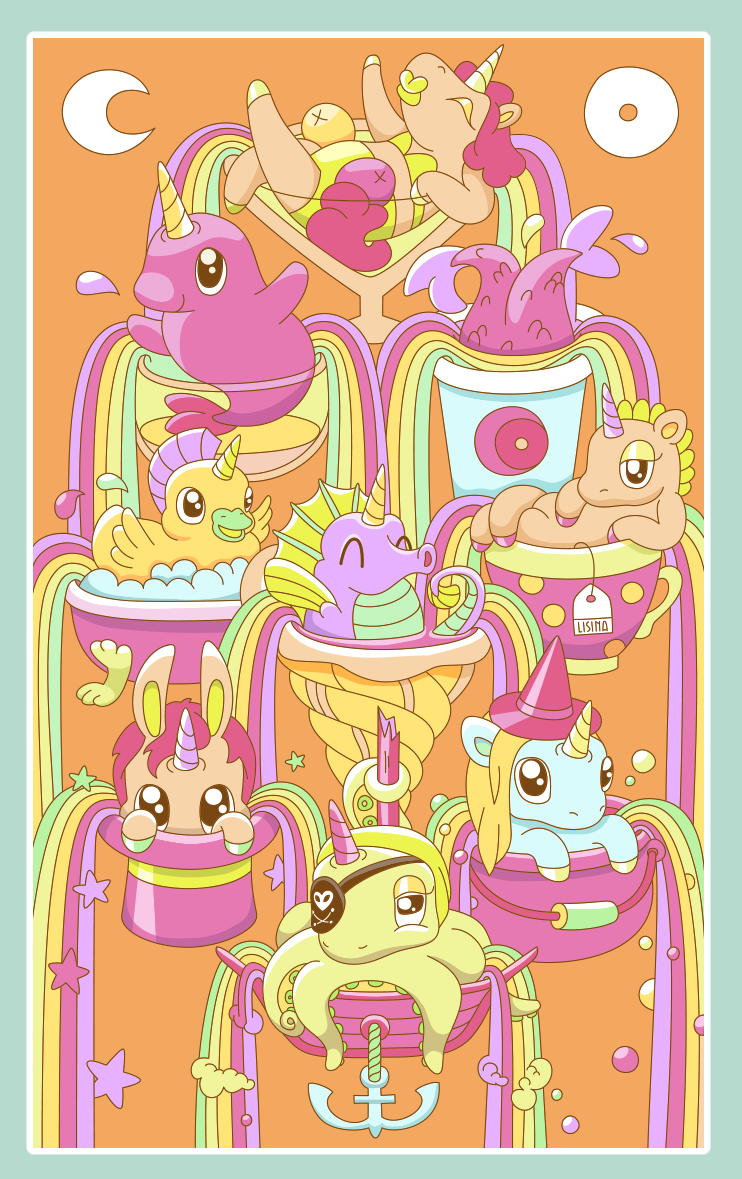 upright
The Nine of Cups Upright
The Nine of Cups in the upright position is representative of one's wishes coming true after a long period of hardship.
Your confidence is at an all-time high right now. Leave the past behind you and move forward into a life of happiness, fulfillment and success.
Love and Relationships
This is a great card for love as it indicates your current relationship is fulfilling you in every possible way. Trust, understanding and romance are all working in your favor right now.
If you're single or just starting to date someone, rest assured that you're on the right path. You've learned a lot from your past mistakes and are finally disposed to give and receive love.
Career
You've achieved great success in your career and are receiving praise from your partners and colleagues. Don't sell yourself short. Instead, reach for the stars as you'll likely attain them.
Money
Thanks to all your hard work and a little good fortune, you're in the best financial position you've ever been. You are being rewarded and recognized in many ways, so don't be surprised if you're granted a promotion or a salary bonus.
Health
The health issues you've suffered from in the past are finally behind you. The fogginess in your head has cleared — you're more up to exercising and enjoying fun activities than ever before.
Take advantage of this newfound energy to establish a healthy routine that will help you maintain your current positive state.
reversed
The Nine of Cups Reversed
The Nine of Cups in the reversed position represents broken dreams and empty promises. The goals you've worked so hard to accomplish are not what you hoped they would be. This negative headspace is affecting your confidence and ability to move forward.
Love and Relationships
If you're in a relationship, you're likely experiencing a rough patch right now. What at first seemed to be the perfect match is turning out to be full of disappointment and unhappiness.
If you're single, now isn't the time to forge a new relationship as you're currently experiencing emotional instability and lack the maturity required to make a relationship work. Nobody can make you happy but yourself, so focus on building up your self-esteem before seeking love from others.
Career
What at first seemed to be a great career move has turned into a nightmare. You may have started your own business or taken on a challenging work project that you now realize is too big for you to accomplish on your own.
If you've branched off into a different profession you may be finding that it's not as fun or fulfilling as you'd originally hoped. Sometimes passion projects are better as hobbies than career moves.
Money
Your finances are as shaky as your career these days. You may have invested in something that promised big profits but are seeing no rewards. You may have been passed over for a promotion that would have greatly increased your income and now you're feeling jaded and unhappy.
Keep your money to yourself for the next little while in order to regain some financial stability. For the foreseeable future, avoid entering into any more potentially disappointing business ventures.
Health
The disappointment you've been feeling in other aspects of your life may be leading you to ignore your physical well-being. You may have abandoned your healthy eating habits and are finding yourself a few pounds heavier than usual. In the worst cases, pulling this card can be a sign of an impending eating disorder, which of course will require immediate medical attention.
Despite all the negatives in your life right now try to promote healthy lifestyle habits.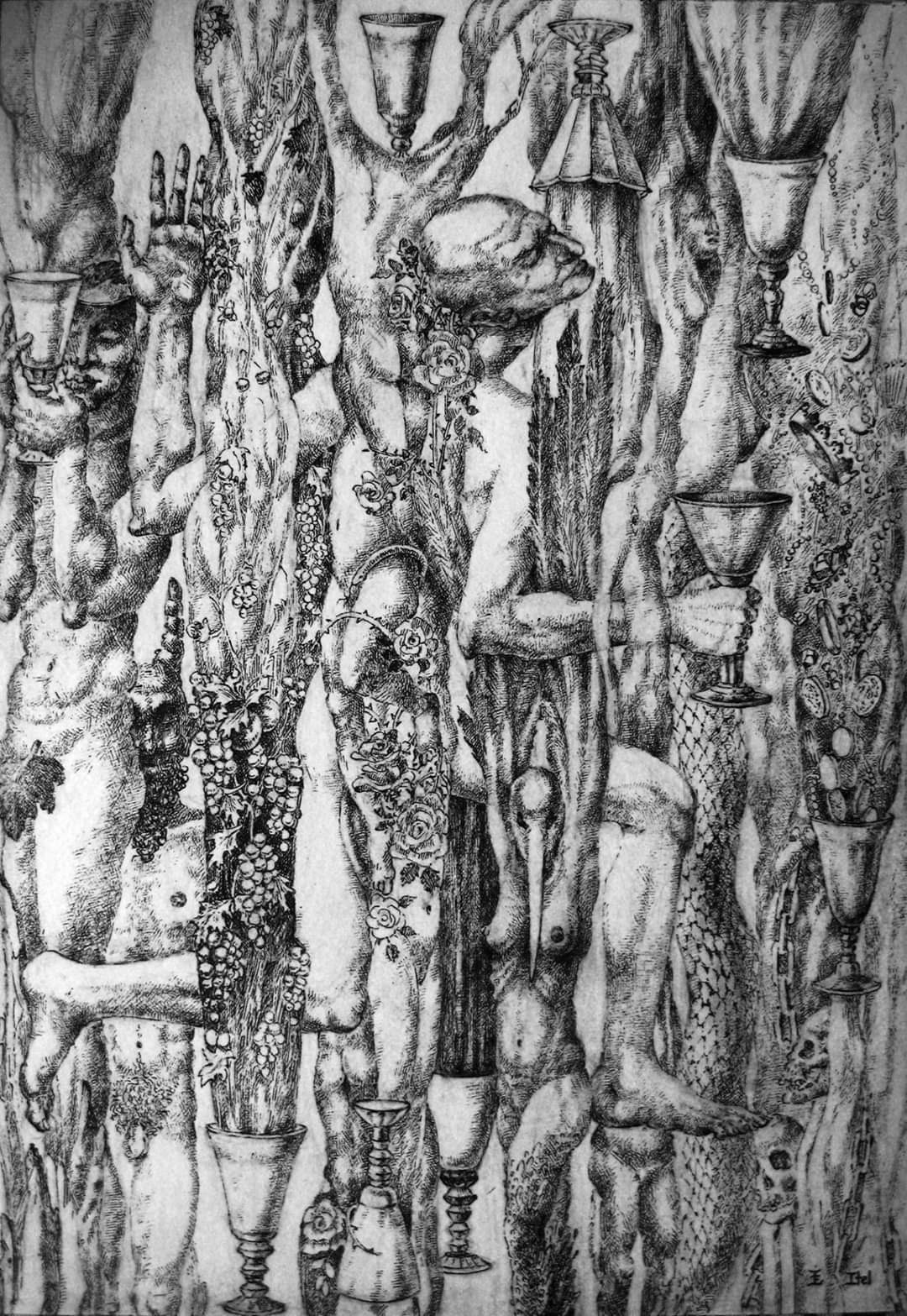 spreads
Your Past, Present, and Future
The Nine of Cups in the past position acknowledges old achievements that you're still quite proud of. While there's no real harm in looking back, don't let it slow down your future successes. Remember, you're the one who once accomplished something great and you can do it again — just so long as you put your mind to it.
In the present position, the Nine of Cups suggests that everything in life is going to work out for you. If you're struggling at the moment, keep in mind that it won't be forever — you simply need to go through a few more hurdles on your way to success.
In the future position, the Nine of Cups shows you successfully tackling an upcoming project, whether it be for school, work, or something in your personal life. Just know that you can accomplish it. You're biggest obstacle to starting something new is all the pressure you put on yourself to do well with it. The best way is to simply start doing it, everything else can be improved or tweaked a little along the way.
Important Card Combinations
In combination with other cards the Nine of Cups rarely brings bad omens. Rather, the card represents blessings in disguise and gives bad situations surprisingly good endings.
Nine of Cups and Fool
You're completely satisfied with every aspect of your life. While others may judge you for your choices, they are nothing to worry about. Much like the Fool, you are content, confident and have luck on your side.
Nine of Cups and World
The Nine of Cups and World card indicate that you've taken a leap of faith and done something you never thought you could accomplish. The journey you're on right now makes you feel complete and unstoppable. Don't let anyone get in your way.
Nine of Cups and Lovers
You're overindulging in love at the moment. The Lovers card indicates that your relationship is at an all-time high, completely captivating every second of your attention. As a result, you may be letting other things fall by the wayside, among them your job, personal life and health.
Nine Of Cups: Yes or No?
Because the Nine of Cups is such a positive card, representing feelings of joy, satisfaction, pleasure and overall contentment, the answer you seek is a definite "yes".