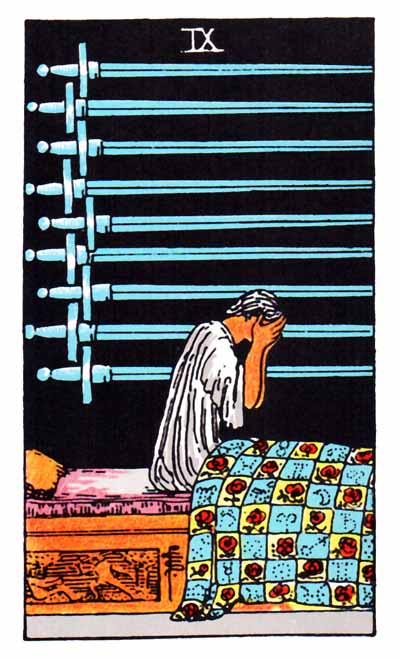 The Nine of Swords Tarot Card's True Meaning: Love, Health and Money
The ninth Minor Arcana in the suit of Swords is one of the worst cards to find in a spread. Representing guilt, depression, and mental anguish, the Nine of Swords, also known as the Lord of Cruelty, forebodes internal struggle and difficult times ahead.
Element: Air
Planet: Mars
Astrological sign: Gemini
Key dates: June 1 to 10
Visual Elements and Symbolism
In the Rider-Waite deck, the Nine of Swords depicts a man shrouded in white, bolted upright in bed, cradling his head in his hands. Nine swords float menacingly above him, two of which seemingly pierce his back and his head. Together, they represent the physical embodiment of pain associated with psychological torment.
He lies awake in a bed adorned with a carving that depicts a battle scene, the moment before a foe is struck down. This represents the guilt of having committed a horrible act, something that keeps him awake at night, sleepless and regretful. The torment of constantly reliving this battle, metaphorical or literal, leaves him wishing he could change his past actions.
Half-covered by a checkered quilt of blue and yellow decorated with astrological signs and flowers, he covers his face in shame. This suggests that he was blind to the signs in the past — and is still blind to them now.
The Nine of Swords as a Person
The Nine of Swords does not represent a person as a whole, but rather a state of mind people often experience at some point in their life.
Many experience depression and anguish associated with a past event that has left them unable to move forward. The Nine of Swords denotes someone who is deeply preoccupied, greatly weighed down by something that is out of their control.
They often spend sleepless nights reliving specific moments, obsessing over details, conversations, and interactions. Though they seek to find out where everything went wrong, ultimately, their inability to influence or change the outcome can undermine their confidence and self-esteem.
These obsessions can lead to stagnation, proving to be a huge detriment to their relationships and professional advancement.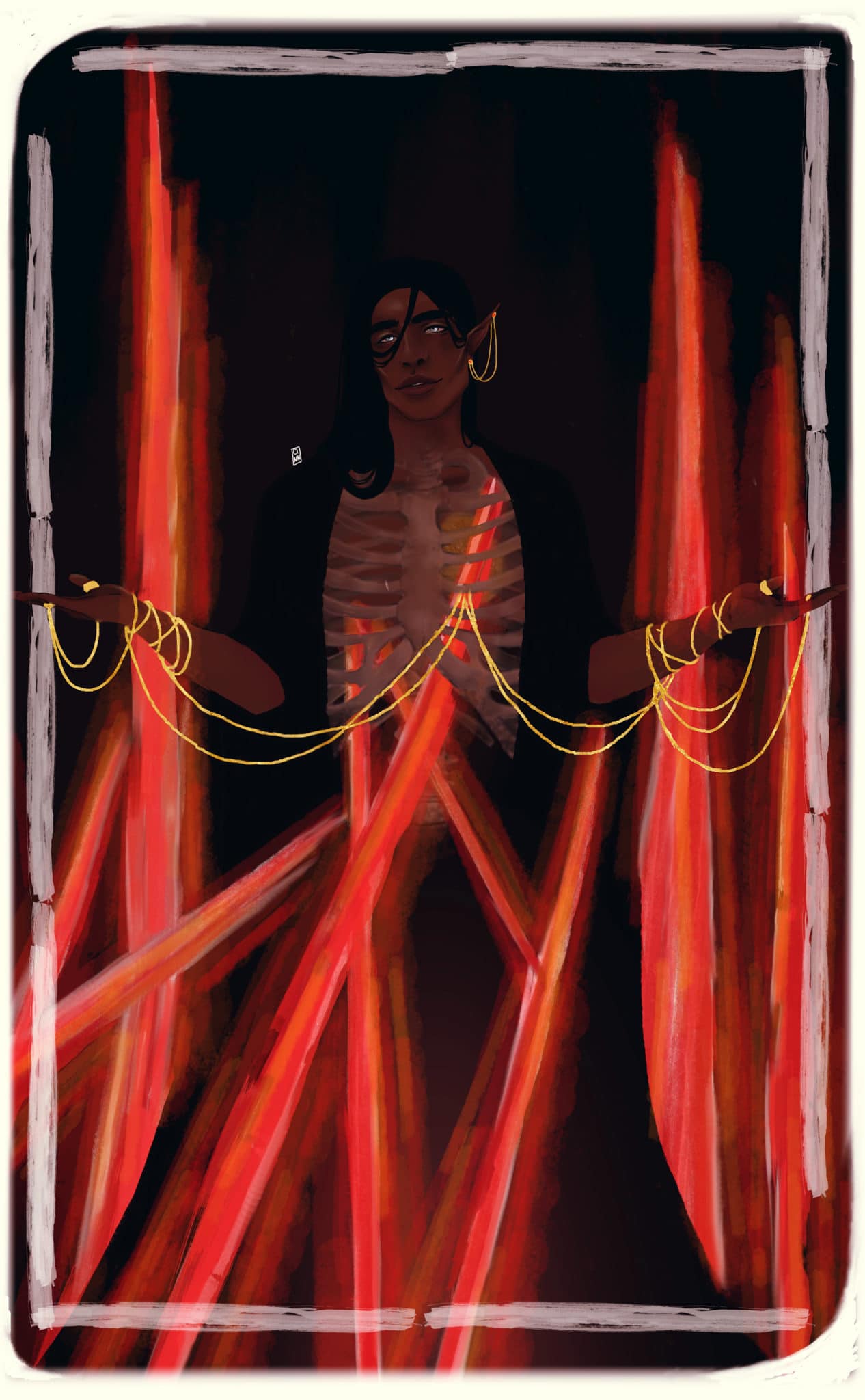 upright
The Nine of Swords Upright: Positive Meanings
This card upright denotes a negative mental space that is detrimental to your well-being. You may have experienced something that is haunting you, and find it extremely difficult to move past it.
You have been reliving these difficult events, attempting to determine exactly how you could have fixed them or prevented them from happening altogether. However proactive this may seem, keep in mind that you're obsessing over something you cannot change.
Your efforts might be better placed trying to move past these events, rather than in parsing them apart and reliving them all over again.
Love and Relationships
The Nine of Swords represents a black cloud looming over your current relationship. Your trust in your partner has been deeply shaken, as you may have recognized something seemingly off with their behavior, caught them in a small lie, or noticed for the first time that they have strange habits.
As a result of this, you now scrutinize their every action, trying to catch them in the act. Keep in mind that this insecurity may not be well-founded and you could be pushing your partner away undeservedly.
If you're currently single, the Nine of Swords suggests that you take a break from dating. A past relationship has left you insecure and skeptical, and you may not be ready to move past it just yet. If you find yourself thinking about an ex-partner, about how or why it all went wrong, now is not the time to find someone new.
Instead of indulging in mental gymnastics and fictive scenarios, look to the future. Determine what you want from a relationship and what you care to work on moving forward. If you find yourself obsessing over the past, bring yourself back into the moment or imagine your future relationship instead.
Career
The Nine of Swords is a strong indicator that things are not going well in your workplace. You could be stuck in a rut and finding it difficult to advance in your career. A past mistake has shaken your confidence and impacted your work.
Alternatively, it might be your coworkers or boss who are focusing on this past mistake, forcing you to frequently relive it. Whether this is malicious or merely a joke, try laughing it off and moving on to something else as soon as possible. Explaining or defending this mistake simply drags it out and gives it relevance, instead of letting it fade into the past.
Money
The Nine of Swords suggests that money is tight. A past mistake has left you financially insecure and unsure of how to remedy the situation.
Due to this mistake, you may be scrambling to keep it together.
This financial faux-pas was your own doing and you must now try to own it and accept responsibility for it. You can then move forward and persevere through this difficult time. Though this is easier said than done, rest assured that the Nine of Swords is not a permanent state.
Health
You are feeling insecure about your health, which is causing you a great amount of psychological distress. Your hyper-awareness about your body is causing you to scrutinize every pain, itch, bump, and scar. Perhaps research has left you feeling more scared than you should be, which is keeping you up at night.
Your medical-related fears are likely causing you psychological distress. Lack of sleep, obsessive thinking, and an inability to go about your daily activities without constantly fearing the worst-case scenario are psychologically debilitating.
Instead of dragging out your pain, contact a medical professional who will be able to reassure you and get you out of this mental rut.
reversed
The Nine of Swords Reversed: Negative Meanings
Though the Nine of Swords is never a good card to appear in a spread, it's a slightly better sign in the reversed position.
You have been forced to take responsibility for your actions, and you now understand and accept the ramifications of your past choices. Though you are fearful of the future, you can nevertheless see the light at the end of the tunnel.
You're still experiencing difficulty sleeping, as your nighttime thoughts tend to run amok, but you're becoming incrementally more optimistic as the days go by.
Love and Relationships
Much like its upright position, the reversed Nine of Swords represents nothing good when it comes to love. Though you may have found closure for past relationships, you're in no state to begin something new.
Plagued by feelings of mistrust in both yourself and in others, it would be wise to focus on bettering yourself rather than seeking comfort in someone new.
If you are currently in a relationship you've likely been putting unnecessary strain on it. Your inner thoughts may feel like a battlefield — you struggle between bouts of uncontrollable suspicion and moments of lucidity and confidence. In such cases communication with your partner is key.
Career
Your past blunders are coming back to haunt you, leaving you insecure and timid in the workplace. However, you now understand your mistakes and have learned from them.
You may have lost face, been demoted, or been refused a promotion. Though discouraging, don't lose sleep over these setbacks. This has undoubtedly caused you a great amount of stress, but remember that such blunders happen to everyone, even more so in highly competitive workplaces.
Channel your stress into productivity and redouble your efforts — you will come out on top.
Money
When it comes to your finances, the reversed Nine of Swords might indicate that you're being more fearful than is necessary. You are experiencing fiscal hyper-conservatism and feeling like you must punish yourself for a past mistake by denying yourself even the smallest of luxuries.
Don't counter this feeling by going out on a massive spending spree as this will only redouble your insecurity and feelings of guilt. Instead, try building a positive relationship with your money.
Include small things that you enjoy into your regular expenses — perhaps a food you love, an activity you take pleasure in, or a trinket that you've been coveting. Once you can spend money on yourself without feeling guilty or overly insecure, you can move on to large purchases.
Health
In a health reading, the reversed Nine of Swords represents guilt and fear related to your physical state. You may have overindulged in something that has left you feeling particularly unhealthy. This is causing you to feel like you lack self-control, and by extension, control over your life.
Don't hesitate to seek professional help if you notice yourself unable to control certain habits, be they dietary or otherwise. The relationship between the psyche and the physical runs deep, and you may need to work on the former to fix the latter.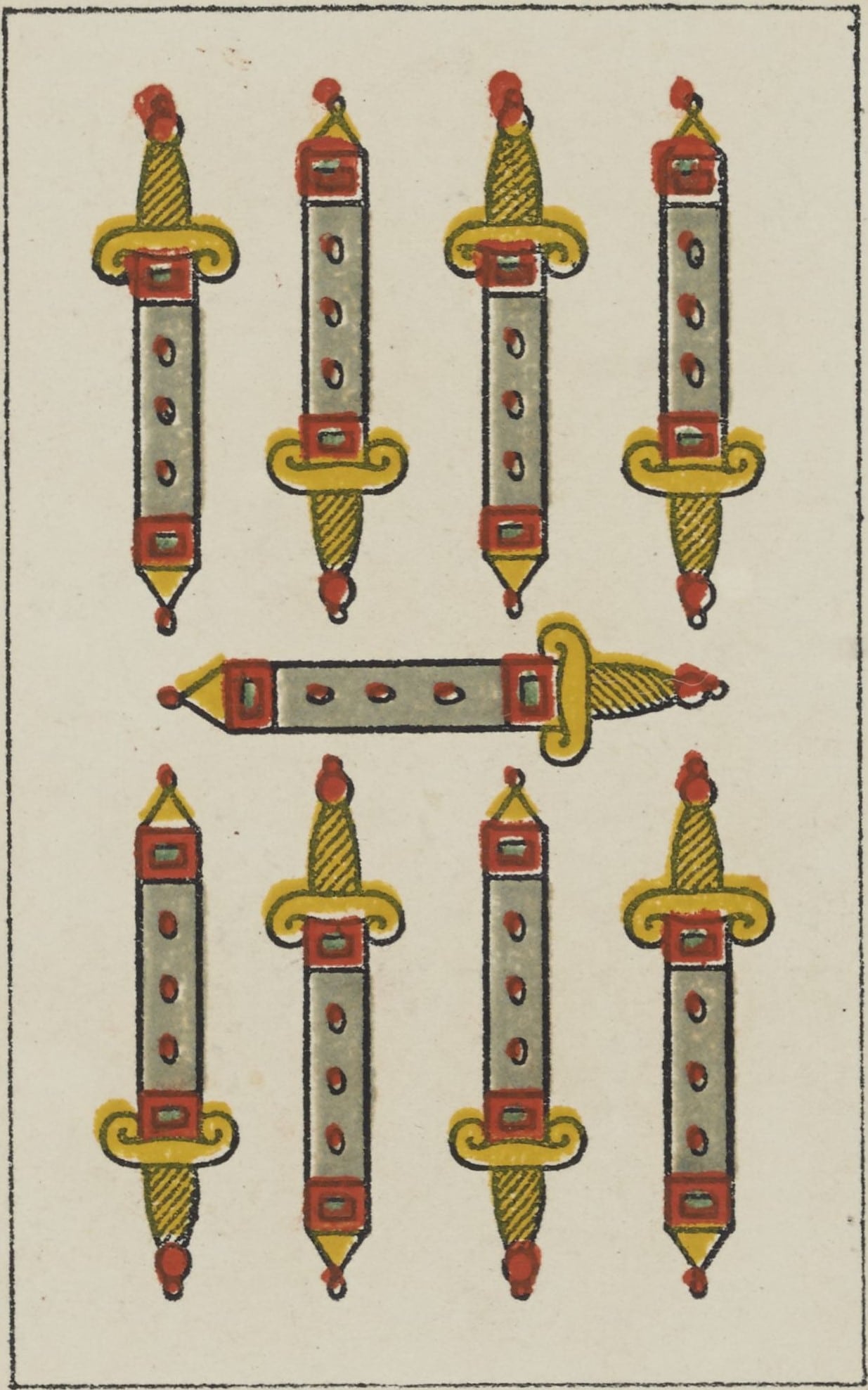 spreads
Your Past, Present and Future
The past position is the best position for this card to be in. The Nine of Swords represents something which negatively impacted your life. You find yourself begrudgingly revisiting this event, much to your distress and discomfort.
When read in the present position, the "Lord of Cruelty" indicates that you are going through something difficult. It sometimes feels like you'll never be able to move past this, causing you to despair. You may feel like you are spiraling, unable to think about anything other than this problem. Remember that this is temporary, but don't hesitate to seek out help. Those around you will extend a hand, and professionals can help you out of this dark place.
When assuming the future position, the Nine of Swords foretells an event that will deeply mark you, such as an unexpected breakup. Perhaps you are already worrying about this happening and fearing future pain.
Important Card Combinations
The Nine of Swords represents both the existence of hardship in your life and a strong negative psychological space. Paired cards help to contextualize the emotions of guilt, obsession, and regret that you've been experiencing.
Nine of Swords and Lovers
When paired with the Lovers card, the Nine of Swords represents unexpressed feelings towards someone you are interested in. You feel guilty for having them, and as such are repressing them. This pairing also indicates that you're not yet over your ex, as you can't help but rehash the little details of your relationship over and over again in your mind.
Nine of Swords and Hermit
This pairing represents social anxiety. While you desperately want to excel at it, the Hermit card indicates that you find social interaction taxing and uncomfortable.
Though you regret your inability to easily interact easily with others, keep in mind that social anxiety is very common, and that most people feel like this at some point in their life.
Nine of Swords and Queen of Swords
This pairing suggests that your social position requires you to act or make decisions that can cause you great emotional distress. Though they may be logical, you often regret having to make and defend them.
The Queen of Swords implies that your inner-self and true emotions are being repressed by a perceived social obligation of stoicism. Keeping a calm exterior is causing a buildup of strong emotions. You must find a positive outlet for them, or abandon the reason for maintaining this calculated mask in the first place.
Yes or No Questions
As the Nine of Swords is very negative, the answer is a definite no.