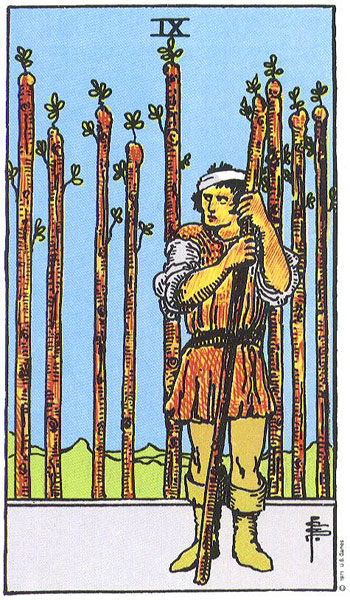 The Nine of Wands Tarot Card's True Meaning: Love, Health and Money
The Nine of Wands signifies strength and resilience in challenging times. This Minor Arcana card often appears in readings when we are faced with unforeseen difficulties.
Element: Fire
Planet: Moon
Astrological sign: Sagittarius
Key dates: December 3 to December 12
Visual Elements and Symbolism
The Nine of Wands tarot card depicts a man clutching a staff and looking over his shoulder at a row of upright wands behind him.
He appears to have been injured in battle — his head is bandaged — and he uses the staff to support himself. His gaze is determined and focused, making it clear that he wants to fight again, only this time he will make sure that he wins.
The Nine of Wands Card as a Person
The Nine of Wands represents a person who has unlimited potential to achieve their dreams. Their strengths become most obvious when they are faced with seemingly insurmountable challenges: where others would give up, a Nine of Wands person perseveres until they have reached their goal. This quality serves them well as they always get what they want in the long run.
These are determined and focused individuals. In fact, they are so used to being successful that they expect the same from their next. They may even impose these ways on their children: a Nine of Wands parent can become easily frustrated if they think their kids aren't trying hard enough. As such, they must often be reminded to tone down their hard-lined parenting stance and to respect the choices of others.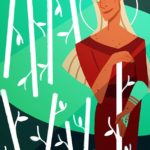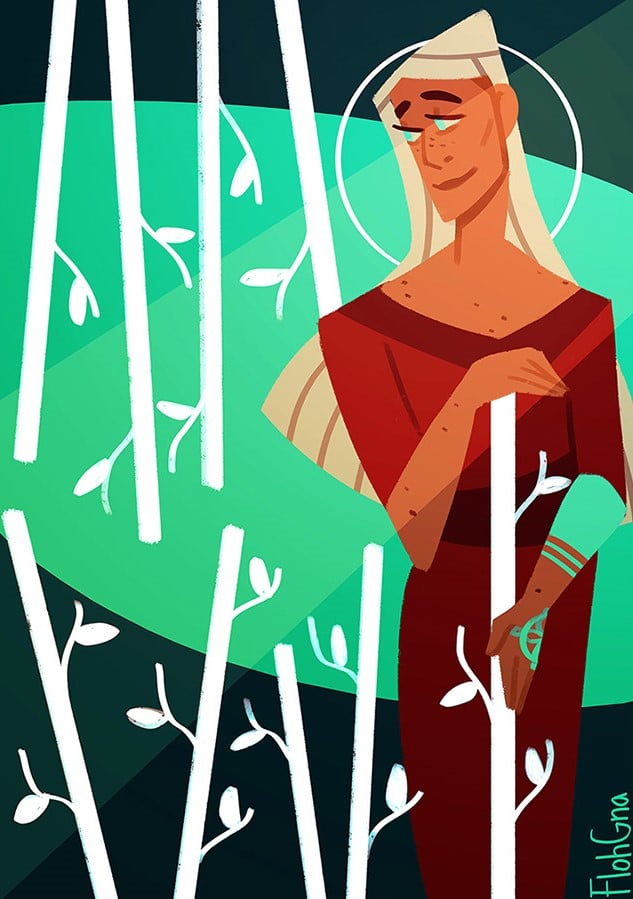 upright
Nine of Wands Upright: Positive Meanings
The upright Nine of Wands means that you've been burned, but you're not going to stop fighting until you get what you want.
Love and Relationships
Your relationship is going through a rough patch right now. You've been questioning whether or not it's worth fighting for, and the Nine of Wands is a sign that it is. Think about what you like about your partner and communicate your expectations — the two of you will get through this together.
If you are single, the Nine of Wands indicates that you are still healing from a painful breakup. Before jumping back into the world of dating, take some time for introspection.
Career
You are worried that something bad is going to happen with your job. While it's good to be cautious, don't let your anxieties consume you.
Instead, remind yourself that you are a strong person who is capable of overcoming any major setback — even one like being laid off or being passed over for a promotion. As long as you persevere, everything will be all right.
Money
You have made poor financial choices in the past and have been financially betrayed by someone you trusted. It's important that you not give up hope. If you keep adhering to smart money principles, you will see your wealth grow.
Don't let the uninformed opinions of others mislead you in your investment strategies.
Health
Unfortunately, you've suffered more than your share from sickness and injury. Despite this, you've never let your health problems get the best of you. You will be rewarded for your tenacity of spirit by being cured of a chronic ailment.
reversed
Nine of Wands Reversed: Negative Meanings
Instead of strength and willpower, the reversed Nine of Wands indicates weakness and abandon.
You have been plagued by feelings of self-doubt and fears of inadequacy. This negative mindset has been holding you back for much too long.
Love and Relationships
You have been swimming in circles in your current relationship and you feel that you have no fight left. Deep down you know that you want to get out out of this relationship.
You are tempted to give into complacency and stay with your partner — especially if you've been together for a long time — but you must summon the courage to move on.
If you are single, the Nine of Wands is a sign that you are feeling weak and vulnerable. Surprisingly, this may be a good omen for your dating life. Your vulnerability will make it much easier to build a lasting connection with somebody. At first, being vulnerable will feel foreign to you, as you are naturally very guarded. Keep pushing — love is waiting for you on the other side.
Career
Lately you've been feeling like your job is a dead end. You're not getting the respect you deserve at work, even though you dedicate yourself entirely to your responsibilities.
Instead of feeling defeated, take a step back and look at your work-life balance. Over-extending yourself may seem inevitable, but in fact it just makes you less effective on the job and at home. Focus on spending time with your friends and family and see if your feelings towards your job change.
Money
You were on a good financial path for awhile, but you gave up on your resolutions the moment you hit a minor setback. It's understandable to feel discouraged when bad things happen to you — especially when you did nothing to deserve them — but you must accept what life throws at you and put all your energy into moving on.
Health
You've been telling yourself that you're going to make an important lifestyle change, but you keep on coming up with excuses and reasons to put it off. While you always attribute your failure to laziness, the truth is that you're afraid to change.
Losing weight, quitting smoking, starting therapy… these things require determination. Address your fears head-on.
spreads
Your Past, Present, and Future
In the past position, the Nine of Wands represents a period in your life during which you were entirely invested in a specific project or goal. Although you eventually succeeded, you emerged from the experience emotionally bruised and tattered, and have been working on rebuilding yourself ever since.
In the present position, this card signifies that things are going quite well, although at times feel a little bored by the monotony. Take this opportunity to be spontaneous. Explore a new place, speak to strangers… be adventurous!
In the future position, the Nine of Wands confirms your apprehensions about things to come. You don't like surprises. Instead of focusing on the unknown, devote yourself to the things that you have control over. Being engaged in the present will make you feel less anxious about the future.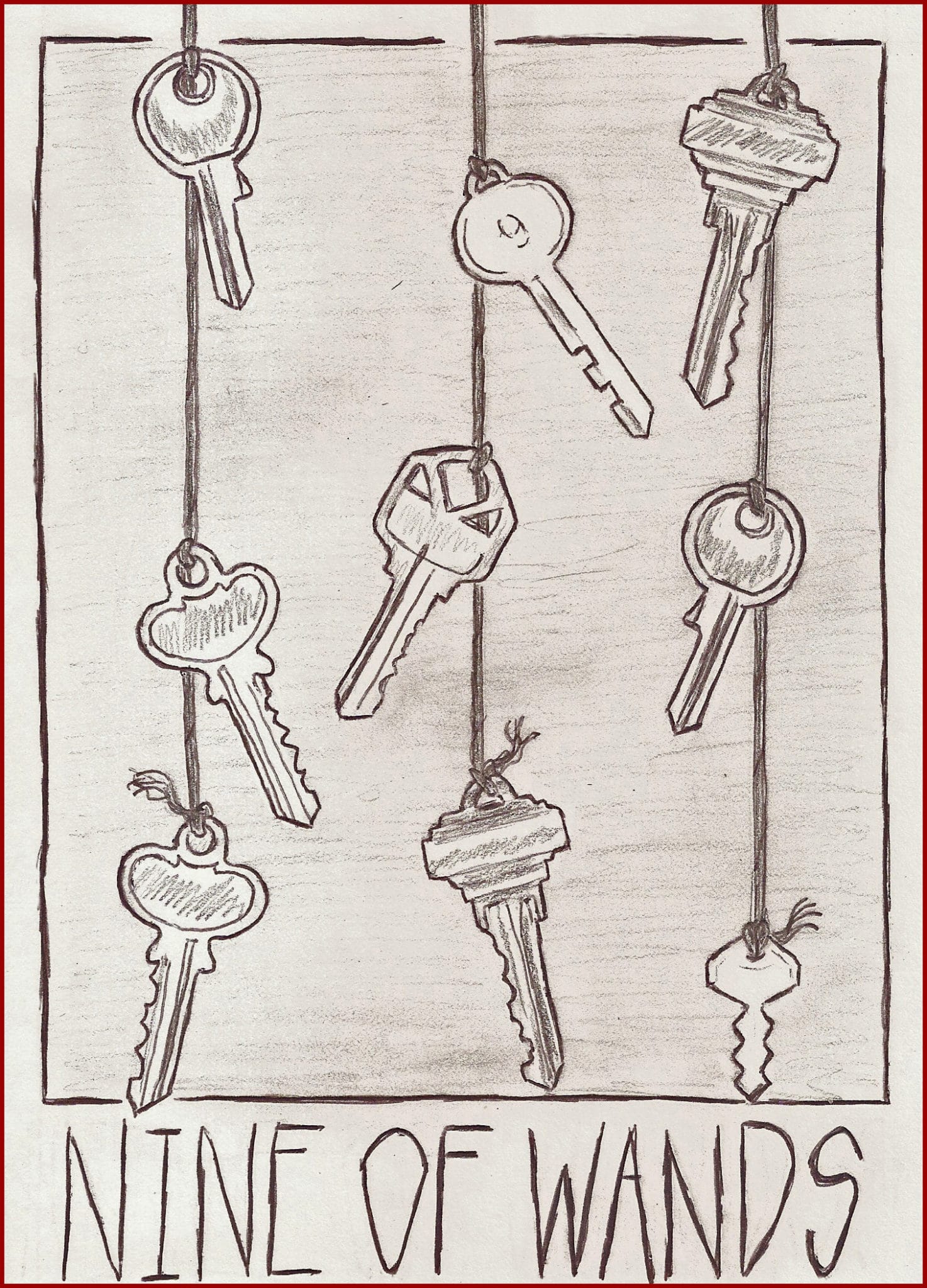 Important Card Combinations
The Nine of Wands has a special relationship with the Major Arcana cards. These combinations tell the you about other people in your life instead of yourself.
Nine of Wands and Magician
This pairing is a sign that you are going up against a deceitful manipulator. This person — who is represented by the Magician card — is very convincing, which will make your efforts to expose the truth and get other people to believe you that much more challenging. Your persistence and inner strength will be key to this journey.
Nine of Wands and Empress
This combination gives the Empress a negative connotation. You are being taken advantage of by somebody close to you. Someone is using your generous nature against you to further their own goals. Take a close look at your relationships and see if anyone is taking a lot more than they give.
Nine of Wands and Star
Somebody in your life is trying to tell you a harsh truth but you are refusing to listen. While it may hurt your ego, the Star remains a positive card. Exploring the more hidden aspects of your personality is crucial to your personal growth.
Yes or No Questions
The Nine of Wands is a sign that you are facing significant challenges. There is great reason to be hopeful, and the answer to your question is yes.