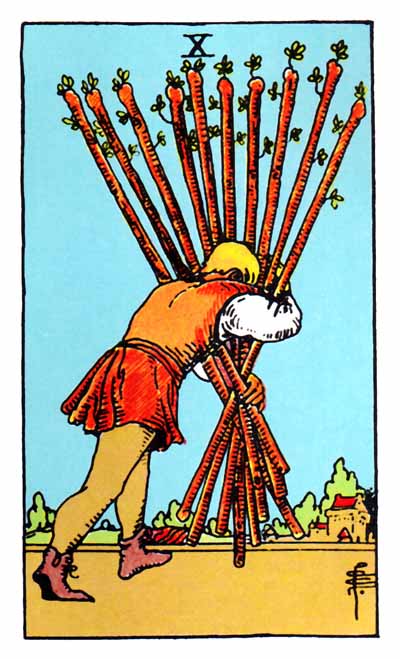 The Ten of Wands Tarot Card's True Meaning: Love, Health and Money
The Ten of Wands indicates that an unreasonable number of responsibilities have been thrust upon you. Be careful, you may be pushing yourself too hard in the name of success.
Element: Fire
Planet: Saturn
Astrological Sign: Sagittarius
Key dates: December 13 to December 21
Visual Elements and Symbolism
In the Rider-Waite deck, the Ten of Wands shows a man carrying ten large, cumbersome wands. This bundle of wands is a heavy burden for him to bear — he's stooped over, holding them all up the best he can.
The man is mid-step, and appears to be embarked on a long journey. His destination — a small town that can be seen in the distance — would be easily attainable in normal circumstances, but the wands he carries will most certainly slow him down.
The Ten of Wands Card as a Person
The Ten of Wands represents someone who is talented and hardworking, but prone to self-punishment and overexertion. This person will almost always choose to put other people's needs before their own.
While they see themselves as simply being generous, in truth they are just too afraid to address their own needs. As a result they are constantly shouldering other people's burdens, leaving themselves worn out and neglected.
While their kind and caring nature certainly does have its upsides, Ten of Wands people should also be mindful of their own needs. Only by demanding respect from others and practicing self-love will they realize their full potential.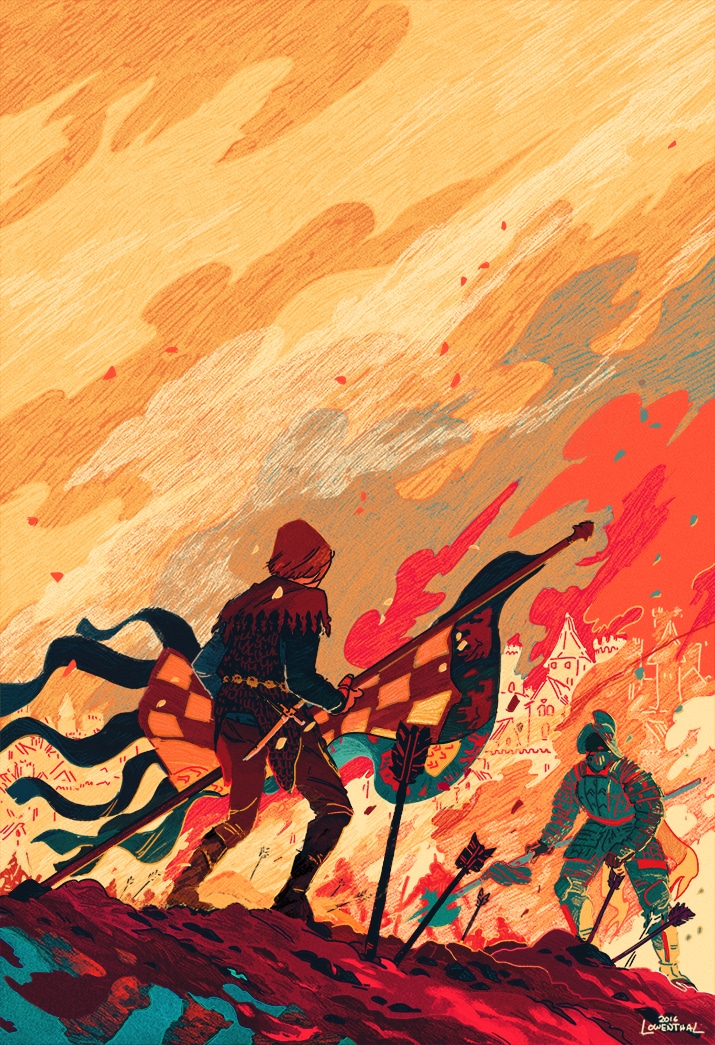 upright
Ten of Wands Upright: Positive Meanings
An upright Ten of Wands symbolizes the burden of great responsibilities. These concerns can distract us from our true objectives.
Love and Relationships
You've been so busy with work and family obligations that you've lost touch with your soulmate. Don't take your partner for granted — they will resent you for it. Find the time to rekindle the romance before it's too late.
If you're single, it may be because you keep finding excuses as to why you're too busy to meet someone. Take a break from work and get out there — love may be closer than you think.
Career
What started out as genuine enthusiasm for your job has morphed into exhaustion and resentment. By taking on too many projects, you may have bit off more than you could chew. Now you feel unable to complete them all to the best of your abilities.
Try cutting back on your workload — you'll make better progress in your career if you focus on the things that actually matter.
Money
You're falling short of your financial responsibilities, but don't let these concerns consume you. Take stock of your life and see what you truly value. Remember that the most important things in life are intangible — the pursuit of material possessions and financial gain shouldn't become your primary concern.
Health
You've been under incredibly high levels of stress lately. This is proving to be detrimental for your health. Be mindful of your sleep cycles and eating habits. Meditation and low impact exercise would do you a whole lot of good.
reversed
Ten of Wands Reversed: Negative Meanings
Drawing a reversed Ten of Wands indicates a general lack of motivation. You may be avoiding the inevitable or constantly putting things off until tomorrow.
Love and Relationships
Your love life is at a standstill. If you've been with your partner for a long time, you most probably feel like you're doing most of the heavy lifting. This is causing a rift in the relationship that's preventing you from enjoying each other's company.
Tell your partner exactly what you need from them and give them a chance to change. If nothing comes of it, be willing to admit that this relationship may not be worth saving.
Career
The pressures of your job are weighing down on you. You are looking for a way to unload some of your responsibilities. By delegating more work to your colleagues or employees and finding more efficient ways to do things, you will decrease your stress levels and improve your professional outcome.
Money
You have big dreams of being rich, but your actions do not reflect this. You're acting cavalier with your finances — shopping sprees and lottery tickets do not constitute investments.
You've also contracted a fair amount of debt, which is causing you anxiety. Summon some courage and face your problems head on.
Health
You've been ignoring symptoms of poor health, possibly out of a combination of fear and shame. Don't wait any longer to make the lifestyle changes you need. See a doctor for a full check-up — your future self will thank you.
spreads
Your Past, Present, and Future
In the past position, the Ten of Wands indicates that you were kept from doing the things you wanted to do — your family obligations played a part in this, but these setbacks were mainly due to your own negative thoughts. Although you are free now, you still carry the memories of a period when you felt trapped. Take some time to think about how far you've come and the freedom you worked so hard to attain.
In the present position, this card is a sign that you are feeling stuck and are unsure of how to get out of a situation you've created. While it may feel like there is no way out, remember that you can always choose to try something new and make changes to your life.
Finding the Ten of Cards in the future position can be a sign that you are setting yourself up for failure. You are so focused on making one dream come true that you are overlooking other important aspects of your life.
Important Card Combinations
Like all cards with the value ten, the Ten of Wands represents abundance and is the minor echo card of the Judgement, Wheel of Fortune, and Fool cards.
Ten of Wands and Judgement
This combination means that you are currently shouldering a heavy burden. Unfortunately, you will have to continue carrying this burden for a long time — longer than you expect, so prepare for a difficult journey.
Ten of Wands and Wheel of Fortune
When the negative energy of the Ten of Wands combines with luck of the Wheel of Fortune, it signifies that good things are coming your way. Use this time of respite to enjoy yourself and remember that life is made of good and bad experiences.
Ten of Wands and Fool
The issue you have been struggling with for some time now will reveal itself to have been an illusion. Your inner anxieties made this problem appear real when in actuality it was all in your head. This isn't a sign that you're crazy or anything of the sort — it's merely a reminder that we often choose to focus on the negative.
Yes or No Questions
The Ten of Wands is a sign of intense pressure and struggling with oppression or a lack of control. Your answer is a resounding no.