The Chariot Tarot Card's True Meaning: Love, Health and Money
The Chariot (VII) represents victory, conquest, and control. The seventh Major Arcana card does not guarantee success, but it does promise that your hard work and perseverance will pay off.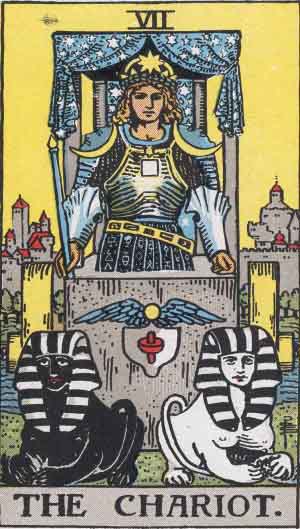 strong and fearless
Element: Water
Planet: Moon
Astrological sign: Cancer
Key dates: June 21 to July 21
Go Beyond Reading Meanings
Get a live tarot reading today!
Visual Elements and Symbolism
In the English Rider-Waite deck, one black and one white sphinx sit ahead of the chariot, ready to pull it when called upon. This duo represents the opposing forces that the charioteer must command and subdue in order to succeed.
The chariot driver rises above the city, as if to say that he stands alone above all humans as the victor. The charioteer is also below a star canopy, a reminder that he isn't a god or above the heavens. The square on the driver's chest, an elemental symbol of Earth and the material world, further grounds him.
The Chariot Card as a Person
The Chariot appears to the strong-willed and fearless. Drawing this card indicates that you are driven to succeed, with the will to work hard in order to get what you desire above all else.
However, the Chariot's persona may also be more of a gilding, a facade used by those who have yet to succeed but are confident — perhaps overly so — in their ability to deliver.
The Chariot driver may also engage in radical behavior to get what he wants, causing conflict and even resorting to violence when an obstacle obstructs his path.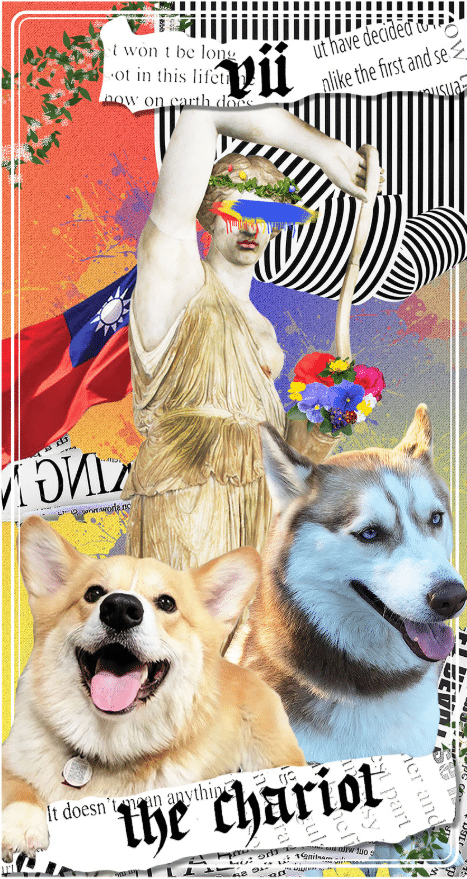 upright
The Chariot Upright
The Chariot should bring you determination to follow through with your endeavors. Reinvest yourself in your goals and double down on your ambitions, as success lies in waiting beyond your trials and tribulations.
Love and Relationships
The Chariot typically denotes the importance of loving yourself.
Before pursuing a serious relationship, take the time you need to shift your focus inwards and assess your emotional needs. If you are already invested in a long term relationship, make sure that you find the time to take care of yourself.
Remember that you can assert your individuality and work towards self-improvement without leaving your loved ones behind, but in the immediate future it may be important to prioritize your own goals.
Some read the Chariot as a sign of over-commitment in a relationship. Perhaps you are pursuing someone too forcefully or you are smothering your significant other. Take a step back and reevaluate your actions and goals.
Career
Being overly concerned with how your coworkers perceive you is holding you back.
Your ambitious ideas may be challenged by your peers, but don't be afraid to stand your ground. Having confidence in your ideas now will pay off down the line. Try to not micromanage — instead, look at the big picture.
If you are looking for a new job, consider one in transport, software, or quality control.
Money
You are about to hit a financial high point in either the form of a windfall or pay raise. If you have any debts, now is the best time to pay them off. Once you are out of debt, consider purchasing a vehicle — such as a bike or car — or a plane ticket.
Health
It should be clear sailing in the coming period, but your high energy levels won't last forever. Your increased vitality should be spent on working out. Results should come easier to you than expected.
reversed
The Chariot Reversed
The reverse Chariot brings with it the ambition and drive of the upright Chariot, with none of its more assured successes. Typically, the reversed Chariot is a call for patience.
Forging ahead at breakneck speed has its cost, and the reverse Chariot warns that you may soon be paying the price for your recklessness.
Love and Relationships
Forcing your significant other into taking a step towards commitment, or taking the next step yourself, could lead to a disastrous outcome. The time is not right to make any major relationship decisions.
Slowing down should not necessarily be viewed as a bad thing. Taking the time to really enjoy a relationship as it progresses will allow you to build stronger, longer lasting bonds.
Career
Drive and ambition are key components of the Chariot, regardless of if it's upright or reversed.
When reversed, it's important to reevaluate your situation. Perhaps you're taking on too much work, or are attempting to undertake tasks that you are not ready for.
Money
Avoid making any large investments or business deals. As they say, "patience is a virtue," and your bold dealings may backfire. Take the time you need to fully understand an offer before committing to it.
Remember that calculated and wise actions are the key to success, and that the good strategist sometimes makes no moves at all.
Health
As is the case with the upright Chariot, the reverse Chariot will see you experiencing a burst of motivation and energy. It is important to focus that energy properly, and know when you are investing it into a destructive path.
Managing your own desire to succeed can be as difficult as finding motivation in the first place, but your victory relies on finding this healthy balance between reflection and action.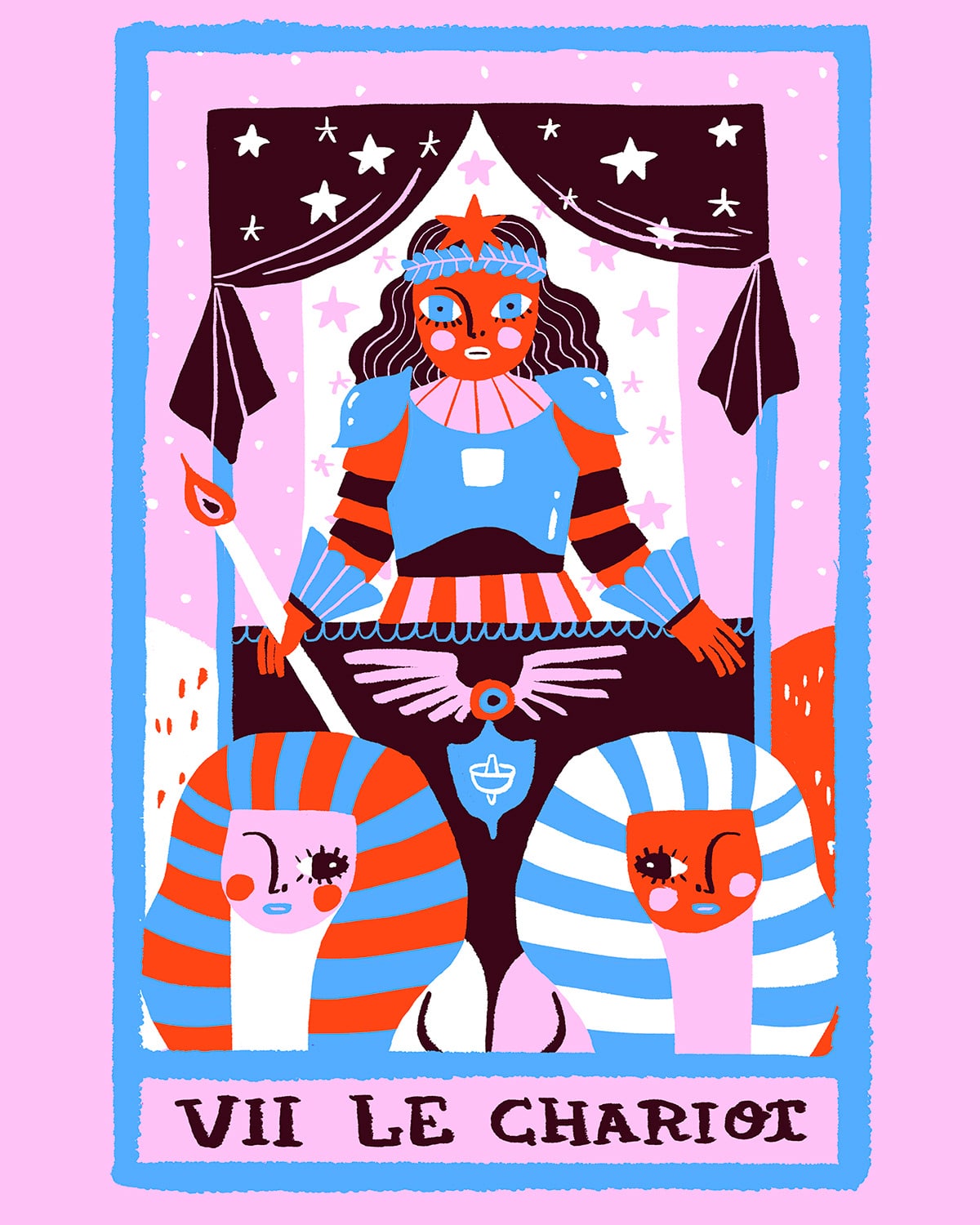 spreads
Your Past, Present and Future
While the Chariot is good in any position, having it represent the past is its least desirable state. When in the past position, the Chariot represents a vanquished obstacle that has led you to your current success. Your hard work and dedication paid off, be that in the form of money, a diploma, or a completed art project.
However, most people hope that their great successes have yet to come, and having the Chariot in the past position could mean that your greatest victories are already behind you.
In the present position, the Chariot means that you are about to enjoy the fruits of your labor. Sometimes, getting everything that you want can be a curse in itself, yet more often than not your reward is something welcomed with open arms.
The future position is ideal for the Chariot. You should be filled with energy knowing that the trials you are currently facing, or have yet to meet, will be overcome. Success awaits you beyond your struggle, and it is yours for the taking.
Important Card Combinations
Overall, the Chariot is viewed as good fortune. When combined with other cards, this good fortune can be further defined, helping to determine what aspect of your life you will see success in.
Combinations may also temper your grand expectations, as certain cards may drastically limit the scope of your triumph.
Chariot and High Priestess
Symbolizing wisdom, study, and knowledge, the High Priestess pairs extremely well with the Chariot. Together, they signify that your intelligence will bring you victory. Any effort put into learning more will be rewarded.
Chariot and King of Wands
While all Kings are desirable pairings with the Chariot, the King of Wands is a notable companion. He represents passion, wise leadership, and experience. The two combined represent unmitigated success in a work, school, or creative project due to your expertise.
Chariot and Death
This combination has two similar, but different, meanings. On its own, Death signifies bad luck, transition, and failure. Some read the pairing of Death with Chariot as particularly bad. When coupled, they can be read as representing squandered opportunities, fear preventing victory, or simply as a negation of the benefits that the Chariot typically promises.
More optimistic readers view the Chariot as negating the dreaded Death card, or acting as a ray of light in Death's long shadow.
Chariot and Star
As the XVII Major Arcana, the Star is closely paired with the Chariot, the VII Major Arcana. Alone, the Star represent pleasure, faith, and hope. When combined with the Chariot, the pair signify that your optimism will be rewarded with great success.
The Chariot: Yes or No?
The Chariot is a yes, particularly in matters involving journey. This could mean that now is the time to take steps toward a road trip or progress towards meeting your ambitions. When it comes to romance, the Chariot is neutral.
Frequently Asked Questions