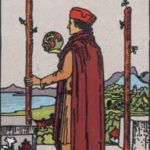 The Two of Wands Tarot Card's True Meaning: Love, Health and Money
The Two of Wands is a maturation of the Ace of Wands, and represents what comes after you've seized a new opportunity — decisions to make and a long journey ahead. The Two of Wands speaks of progress, discovery, and going out into the world to achieve your goals.
Element: Fire
Planet: Mars
Astrological sign: Aries
Key dates: March 21 to March 30
Visual Elements and Symbolism
The Two of Wands features a man in a castle overlooking a vast domain. He is gripping a wand in his left hand and holding a small globe in his right.
The wand he's holding stands for his new, burgeoning plans, with the flowering leaves representing growth. The globe tells us that he has the world in his hands, and the landscape shows his great potential and aspirations. The red color of the man's hat represents his passion and adventurous nature.
To the side of the man is an image depicting a rose, a lily, and a cross. The rose symbolizes love, the lily symbolizes hope, and the cross symbolizes faith, three guiding lights of decision-making.
The Two of Wands as a Person
A person who draws the Two of Wands is a natural leader whose charisma and charm make others take to them instantly. They have a clear vision for their future and will work hard to make their dreams come true.
Two of Wands personalities are also highly courageous and competitive, which allows them to accomplish their goals but can also work against them. They should be careful not to let their drive for success negatively impact other areas of their life.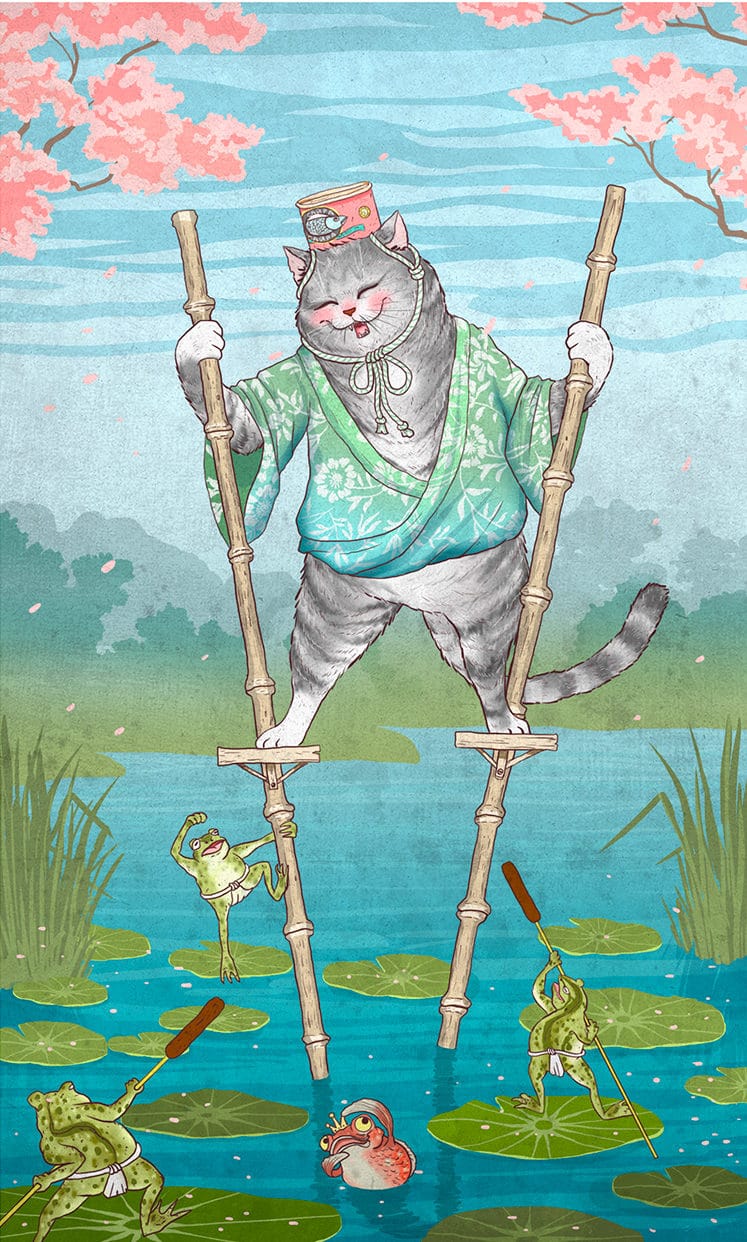 upright
The Two of Wands Upright: Positive Meanings
The upright Two of Wands represents moving forward, discovering the world, and accomplishing your goals. It's a sign to get out of your comfort zone and explore new things. The Two of Wands also represents planning and long term decisions.
Love and Relationships
If you're single, going out of your way to meet new people by traveling or trying out a new neighborhood spot will lead to a new romance. In your search for love, be sure to reflect on what you want and not let someone else alter your life path.
For those in a relationship, the Two of Wands is a sign that you are great partners and well-suited for each other. You have a strong foundation and are ready to make plans for the future. You will make a long term commitment to each other, such as moving in together or getting married.
Career
An auspicious sign for your career, the Two of Wands indicates that you're going to be moving up the ladder. It's also a sign that you should try to work in a new city or country. As long as you plan carefully, your future is looking bright.
Money
The Two of Wands represents financial stability and balance. You are well on your way to reaching your goals. You will also be able to afford a vacation to a new destination soon.
Health
You've been working towards improving your health and are starting to see results of your efforts. Continue on your path to well-being by maintaining healthy lifestyle habits.
reversed
The Two of Wands Reversed: Negative Meanings
A reversed Two of Wands is a sign that you are floundering and lack direction or long-term goals. You need to figure out what's holding you back and start organizing your life in order to achieve the goals that are most important to you.
Love and Relationships
You're not sure that you want to be with your partner on a long term basis. You're feeling pressured by society or your partner to make a tangible commitment like moving in together, getting engaged, or having a child. Don't take this next step if you have doubts about your relationship, it will only make things harder when it inevitably ends. Reflect on whether you want to take things slow or end the relationship altogether.
If you're single, the reversed Two of Wands indicates that you have been hesitant to put yourself out there. Your uncertainty over what you want in a partner is preventing you from forming any new connections. You don't have to know exactly what you're looking for to find love — don't sequester yourself!
Career
You're working a dead-end job or in an industry that you have no interest for. Don't ignore your unhappiness, see a career counselor or professional advice from someone you trust.
The Two of Wands can also be a sign to take some time off work — travel or live overseas until you have a clearer sense of what you want to do.
Money
You have a tendency to believe things will just work out for the best, when in reality you need a properly thought-out plan in order to achieve your long term financial goals. Elaborate an actual investment strategy — it's bound to yield results.
Health
You've been putting off plans to get back into shape, or refuse to schedule a much-needed appointment with a mental health professional. This procrastination is preventing you from moving forward in other areas of your life.
You sometimes feel helpless and fail to find meaning in your day-to-day existence. Addressing your underlying health issues will allow you to achieve your goals and feel happy again.
spreads
Your Past, Present and Future
The Two of Wands in the past position is representative of a time where you left your comfort zone and the decision paid off. Harness that feeling again and take a calculated risk — it's bound to pay off.
In the present position, the Two of Wands is linked with the Ace of Wands. The Ace is the spark of creativity and possibility, and the Two of Wands is the path that is forged from it. Getting a Two of Wands in the present means that you are on the path towards success.
In the future position, the Two of Wands points to a time when you will have fulfilled your goals and achieved your true purpose. No matter how tumultuous things may seem, rest assured that peace and happiness are in your future.
Important Card Combinations
In a combination, the Two of Wands typically adds an element of decision making to the other card's meaning.
Two of Wands and Six of Swords
The Six of Swords symbolizes moving away from hardship. When found in a pairing with the Two of Wands, it's telling you that moving is the right decision. Whether you are debating a move to a new place or thinking of ending a relationship, this combination assures you that change is what's needed.
Two of Wands and Tower
You're looking for trouble by desiring something that's bad for you. The combination of the Tower's destructive nature and the decision-making of the Two of Wands is not to be taken lightly. Stay away — this is bound to end poorly.
Two of Wands and Death
This pairing with the Death card means that you will face a series of struggles, but you will win the war after losing many battles. Your triumph will feel all the sweeter after going through so much adversity, so keep your head up during the bad times.
Two of Wands and Two of Pentacles
Cards of the same number often pair well together, and this pairing is no exception. You will discover a way to use your creative talents to make more money. You may have to find a business of creative partner in order to reach your fullest potential.
Yes or No Questions
The Two of Wands represents decisions and moving forward. Your answer is "yes," especially if your decision involves other people.