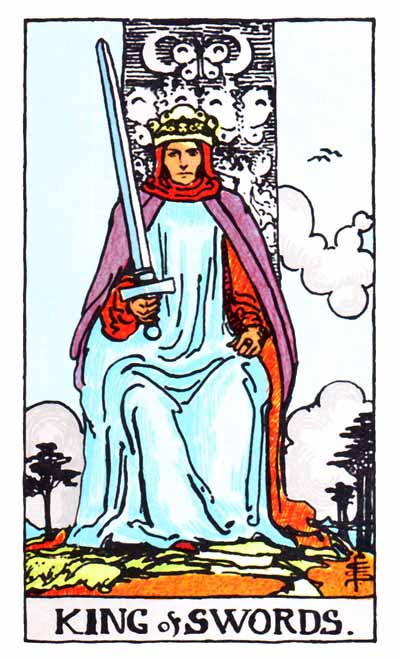 The King of Swords Tarot Card's True Meaning: Love, Health and Money
Representing intellectual clarity, strength, and discipline, the King of Swords calls for a head-over-heart approach. You need to face all upcoming challenges with steadfast determination.
Element: Air
Planet: Saturn
Astrological sign: Aquarius
Key dates: January 10 to Februry 8
Visual Elements and Symbolism
In the English Rider-Waite deck, the King of Swords sits impassively atop an engraved throne, relaxed and gazing forward confidently. His brow is slightly furrowed, an indication of his contemplative nature. The sword in his right hand is pointed upward, while his left hand rests on his lap.
To his left, two birds fly serenely side by side, watching over the land. They see the greater picture and put all problems into perspective. The King of Swords' robe is blue, orange, and grey, symbolizing the marriage of the clear sky, the grounded earth, and the immovable throne upon which he sits. He embodies the qualities of the land over which he watches, protective and ready for action while remaining stoic and contemplative.
The sword he wields points skyward and is slightly off-center. This slight crookedness represents doubt, illustrating how the King of Swords is plagued by the possibility and fear of failure.
The King of Swords as a Person
Calm, stoic, and assertive, the Kind of Swords naturally favors facts over his initial instinct. People represented by this card rarely make split-second decisions, preferring instead to weigh the pros and cons of almost any situation.
The King of Swords' everyday life is dictated by logic, manifested by his strictly regimented schedule. These daily activities are a means to an end. If you are represented by the King of Swords, they are necessities to your achieving the specific goals you've set for yourself. You dislike being inactive and feel you're at your best when engaging in productive activities.
Whether this means eating well, going to the gym, dressing well, or climbing the social ladder, you are happiest when working towards a specific goal. Disciplined and purposeful, you excel at your job. You may find yourself attracted to positions of power, where you can orchestrate and mobilize large groups of people towards a specific purpose.
Your ability to see the big picture allows you to organize those around you, while your confidence assures they will listen to your guidance. Be mindful that you can sometimes be inflexible and that someone straying from your original game plan may pleasantly surprise you.
upright
The King of Swords Upright: Positive Meanings
The King of Swords in the upright position indicates you may feel the need to restructure your daily schedule, favoring a strict hourly regimen rather than taking a laissez-faire approach to your daily activities.
You may find yourself setting new goals and developing a stringent attitude in order to reach them, as you feel the need for increased structure in your life. This may impact your social life and your career in several ways.
Don't be surprised if you notice a shift in your entourage, as your no-nonsense attitude and high expectations will cause some to rise to your level while others will shy away.
Love and Relationships
Because you favor your head over your heart, you may find yourself at a loss when it comes to love and relationships. It may be difficult, or even impossible, to find someone who fits the exact mold you have created in your mind.
If you're single, try to keep an open mind when it comes to meeting potential partners. You may be asking too much of someone you've just met, or you may be disregarding them based on superficial impressions. Try being spontaneous and letting your guard down for awhile; your date may surprise you and show you what you've been missing all this time.
If you are currently in a relationship, make sure that your partner doesn't feel ignored. They may not feel the desire to follow your strict schedule or make the same decisions as you, but it's important that you support them in their own endeavors — even if they're using their heart instead of their head.
Your desire for structure and ability to achieve your goals can lead to a comfortable home life, but make sure it doesn't become dull or repetitive. Your partner will appreciate small, caring acts that break away from your routine. Try indulging in something they love; their passions may catch you off guard and open your eyes to new opportunities that weren't apparent beforehand.
Career
Meticulous and calculated, you run a tight ship and your supervisors notice how well things go when you're in charge.
Your ability to see three steps ahead will allow you to climb the ladder in your workplace in no time. Although your no-nonsense attitude may intimidate your coworkers, the results you achieve will cause people to rally around you, basking in the limelight of your success.
Articulate and structured in appearance and in lifestyle, you may be chosen to become a spokesperson or an organizer for workplace events. These opportunities will allow you to explore the boundaries of your comfort zone while simultaneously honing your charisma and communication skills.
Money
Despite your ability to see the big picture and the possibility of climbing the ladder in your workplace, the King of Swords is a good indicator that you should be careful when it comes to money.
This is a good time to take a step back and review your finances. Getting a second opinion would be beneficial. Seek a trusted advisor and avoid making any brash decisions.
Health
In the health department, the King of Swords indicates a potential imbalance between your mind and your body.
Your new regimen may be yielding positive results, especially when it comes to your physical health. If you've included exercise into your weekly routine, you may notice yourself feeling increasingly confident, empowered, and physically stronger.
On the other hand, the Kind of Swords could suggest that you're plagued with anxiety and the fear of failure. You may be feeling the need to work overtime to compensate for any misstep or the inability to follow the routine you've created for yourself. This can result in emotional and mental exhaustion.
You may have created impossible expectations for yourself by setting the bar too high. Remember to be kind to yourself, and force yourself to take days off every once in awhile to indulge in the things that make you most happy.
reversed
The King of Swords Reversed: Negative Meanings
Your austere attitude and lack of leniency, both with yourself and those you may perceive as standing in your way, could be negatively affecting your personal relationships.
You may be trying to avert any form of failure by pushing distracting factors away, such as friends and family. They may feel as though they are bothering you and unwelcome in your new lifestyle. You may be focusing exclusively on yourself, becoming increasingly selfish or egotistical in your behavior.
The reversed King of Swords may also indicate that you are currently lacking your usual clarity of mind. You may find yourself being indecisive, unable to make the informed, objective decisions you are known for.
Love and Relationships
If you're single, your navel-gazing may be pushing potential new partners away. You may be hogging conversations, or conducting dates as interviews. Your inability to see past your own goals and desires prevents new people from entering your life, as only a perfect person could meet your impossibly high standards.
This is not the best time to jump into a relationship, as anyone who does fit your stringent criteria may be lying to please you, or may be equally inflexible in their search for a new partner.
If you are in a relationship, your confidence may be coming off as arrogance. This could alienate your partner and leave them feeling inadequate. Their failure to comply with your plans may cause you stress that could manifest as misdirected anger or controlling behavior.
Try taking a step back and evaluating your own behavior before accusing your partner. You may be sabotaging your relationship or subconsciously creating situations that allow you to vent repressed feelings.
Career
The reversed King of Swords is an indicator that you're being too harsh on yourself and your coworkers. You may also be offloading too much responsibility onto them and blaming them when things go wrong.
Be careful that you are not being overbearing, or too demanding of those around you. If you are supervising coworkers, try to be more understanding. If you chastise them, they may grow to resent you. Instead, try expressing your concerns and goals to them in a positive and constructive manner.
Your current lack of flexibility could be harming your chances of a promotion. Keep in mind that the ability to adapt to new situations is an essential one, and your supervisors are aware of this. Try focusing on honing your improvisational abilities alongside your analytical clear mind.
Money
The reversed King of Swords indicates that you shouldn't jump headfirst into anything concerning banking, business deals, or mortgages. Whether you're trying to close a deal or structure a payment plan, an unseen factor may be lurking out of sight.
An overly strict lifestyle could be causing you anxiety. You may feel the desire to spend more money as a coping mechanism. Although there is nothing wrong with treating yourself from time to time, do not splurge on large, expensive items. Although they can initially make you feel better and temporarily reduce stress while you indulge in your new purchase, you may later feel regret and renewed anxiety over the hole an impulse buy burned into your wallet.
Health
Your schedule may be too demanding, both physically and psychologically. Asking too much of yourself will potentially result in a perceived inability to reach your goals.
Difficulty following through on plans or a schedule may cause you to experience a high amount of stress. Although this is a temporary state, you may feel as though you can't harness your inner thoughts. Dealing with this can be quite difficult at the best of times, so don't hesitate to seek professional help.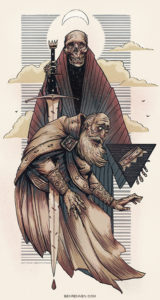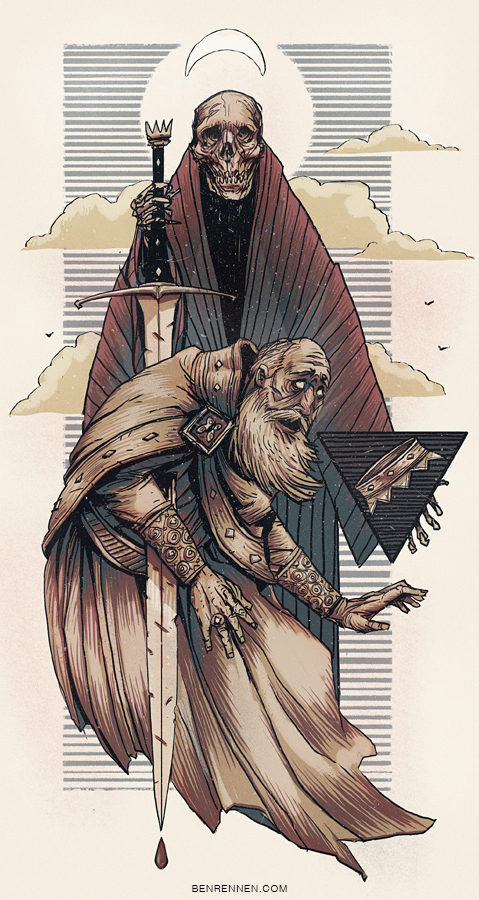 spreads
Your Past, Present, and Future
In the past position, the King of Swords indicates that your natural clarity of mind was recognized at a young age. This set you apart from others, likely leaving you feeling alone. There were benefits however, as you were able to jump on positive opportunities as they became available to you.
In the present position, this card suggests that someone with a lot of experience may guide you towards the right path. This doesn't mean that you lack clarity of mind or are on the wrong path. Rather, this figure will help hone your perceptiveness, a quality that will remain with you for the rest of your life.
The King of Swords in the future position indicates that the goals you've set for yourself will likely come true due to your ambition and meticulous dedication to seeing them through. You know how to achieve what you want and take daily strides towards achieving it. It might not always be smooth sailing, as some opposition to your ambition can be expected, but keep the wind in your sails and you will ultimately reach your goals.
Important Card Combinations
As a court card in the Suit of Swords, the King of Swords presides over the mind, intelligence, and the inner workings of every being.
King of Swords and High Priestess
The High Priestess symbolizes the inner self and natural intuition while the King of Swords directs attention to your conscious mind. It will be beneficial to remain calm, articulate, and to listen to your instincts in the face of challenging situations.
Trust yourself and exercise authoritative restraint in the face of any new challenges.
King of Swords and Emperor
The Emperor tarot card's power and passion is complemented by the King of Swords' clarity of mind. Together, their tendency towards organization, goal-oriented regimens, and rational decision-making is reinforced.
King of Swords and Justice
Your honesty and ability to clearly communicate will determine the outcome of your relationships with important people in your life. Together, the Major Arcana's Justice and the King of Swords indicate that you should come clean on your decisions — keep in mind that they'll affect your most important relationships.
Instead of keeping them in the dark, communicate openly with those around you. This will stave off any feelings of betrayal.
Yes or No Questions
The answer is highly ambiguous, but typically leans towards no. The nature of the question is important however, as questions dealing with an increase in power, influence, or attaining specific goals may swing the King of Swords into the yes position.