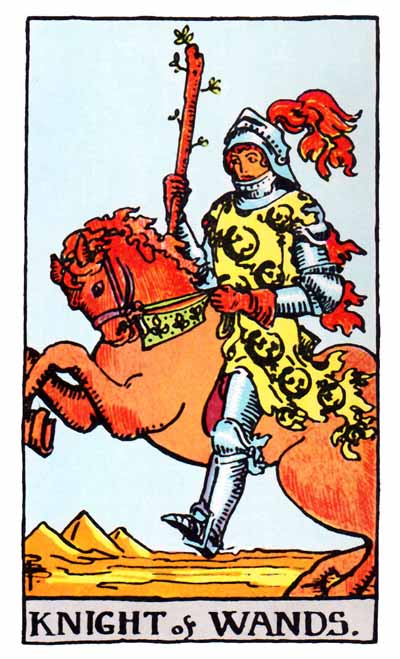 The Knight of Wands Tarot Card's True Meaning: Love, Health and Money
The Knight of Wands tarot card urges you to pursue your goals with confidence, energy, and steely determination. For the courageous, the path forward is clear and marked by formidable adventures and personal growth.
Element: Fire
Planet: Jupiter
Astrological sign: Sagittarius
Key dates: November 13 to December 12
Visual Elements and Symbolism
The Knight of Wands card depicts a knight in full armor riding a galloping horse. The armor is decorated in bright red plumes, symbolizing the knight's fiery and confident nature. In addition to his armor, he is wearing a yellow tunic covered in a salamander pattern, which represents transformation.
While his armor and the horse's charging stance may suggest that the knight is heading into battle, a peculiar detail strikes our attention: he's holding a wand instead of a sword.
The wand leaves the nature of the knight's quest open-ended, but his enthusiasm and vigor are undeniable.
The Knight of Wands Card as a Person
As a person, the Knight of Wands exudes charm and confidence. People who are represented by this card never back down from a challenge and aren't afraid to take action, as they believe in themselves and their abilities so completely.
They are passionate and just a little rebellious, which makes it hard to resist their charm. Once someone is in the orbit of a Knight of Wands personality, they won't want to leave it.
Just being around these types of people makes others act like them and become more daring, more spontaneous, and more self-assured.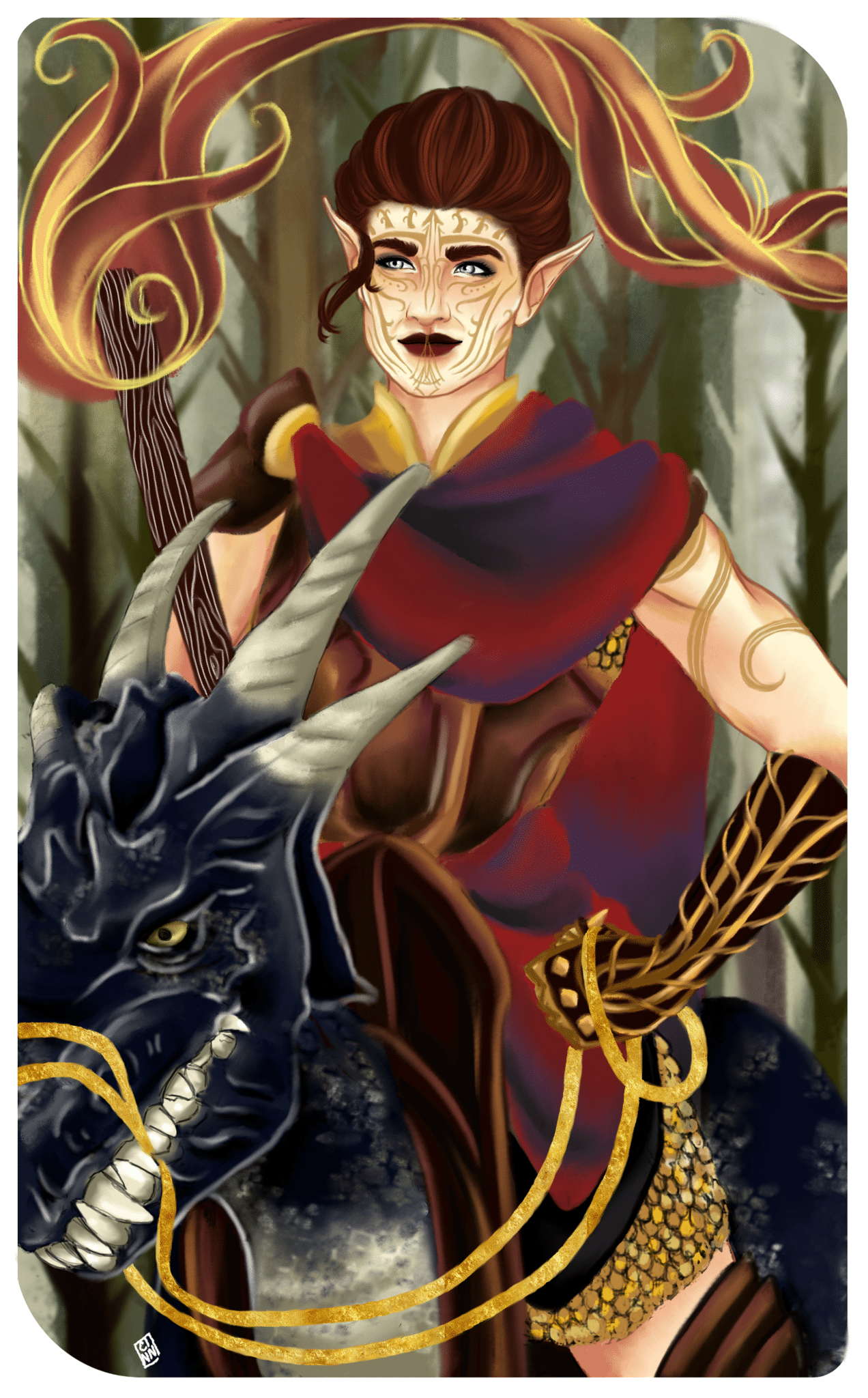 upright
The Knight of Wands Upright: Positive Meanings
When the Knight of Wands appears in a reading, it's a sign that adventure and excitement are coming your way. You'll be granted the ability to accomplish your goals and really take life by the horns.
Love and Relationships
Your relationship is about to become more exciting and passionate as you discover a never-before-seen side of your partner. The two of you may be embarking on a new chapter of life together or going to an unfamiliar place. Even if you just try out a new activity in your area, you'll find that you see each other in a new, sexier light.
For those looking for love, the Knight of Wands is an excellent sign. It means that you've been putting out feelings of confidence, charm, and fun out into the world and you're going to meet someone who has those same qualities. It's also a sign that someone in your life finds you irresistible but hasn't found the right moment to tell you. Channel your fearlessness to take action and make the first move.
Career
You're feeling energized and ready to throw yourself into work. Taking on new assignments, applying for a promotion, even going into business for yourself — nothing is beyond your reach right now. This drive and ambition will attract like-minded people, making this is a great time to step up networking efforts as well.
Money
This is a good time to move some money around. Are you sure you're putting enough into your retirement and savings accounts? Reallocate your funds to invest as much as you can afford to, and don't let your money go to waste.
The Knight of Wands is also a sign that you'll be receiving some money soon — so it'll be all the better if you already have your financial ducks in a row.
Health
You have to take action in order to move forward with your health. If you've been feeling depressed, the only way out is for you to start doing new things. If you've been putting off a major health decision, you have to face it and make a decision — the sooner the better.
reversed
The Knight of Wands Reversed: Negative Meanings
The reversed Knight of Wands represents poor decision making, a lack of self-discipline, and not being able to finish what you started. While you desperately want to take action, your choices end up backfiring — if you are even able to make them at all.
Instead of acting recklessly, think of this period as a rest stop: center yourself and focus on reflection until you are ready to make a big move.
Love and Relationships
Someone in your relationship is acting arrogant and careless. This may take the form of having an affair, acting aggressively, or simply not putting much effort into the relationship.
If this sounds like you, take a hard look at your behavior and ask yourself if you really want to be in this relationship in the first place. Are you mature enough to make the sacrifices that it demands? If this sounds like your partner, it might be time to get some distance from them. It's not fair for you to have to endure their volatility.
Look out if you're single — someone you're interested in is less serious than they seem. They may simply be looking for a one night stand. If this isn't what you want, then it's best to stay away.
Career
The career path you're on is not the right one for you, as your history of aimlessly drifting from job to job can attest. Your current job is draining you because you don't really care about it.
Even though you know you're not happy in this position, you don't know what you would rather do instead. As a result, you feel permanently stuck. This is a difficult situation to be in; consider speaking to a career counselor about your goals.
Money
You've been irresponsible with your money and it's causing you great stress. When arguing about money with a loved one, remember that you're on the same team — debt and bad spending habits are the true enemies. Focus on changes and don't stoop to personal attacks.
If gambling has played a role in your money mismanagement, put an end to it immediately.
Health
While you had good intentions, you started a new health regimen too quickly and without doing proper research. The parameters you set for yourself are too extreme. You'll end up falling off the wagon and right back where you started. Scale back your health goals and embrace moderation.
spreads
Your Past, Present, and Future
In the past position, the Knight of Wands indicates that prior impulsive decisions have had mixed results. Don't let yourself be preoccupied with past mistakes — act confidently but with forethought and you'll do just fine.
In the present position, this card may indicate that you're planning to get away and go somewhere new, or perhaps upend your life completely. A relocation or long vacation may be good for you as it will satisfy the restlessness you've been feeling lately.
The Knight of Wands in the future position is telling you that with enough determination and courage, you can have a life that makes you truly happy. If there's something you want to accomplish, start working towards it today. You have what it takes it to make your dreams come true, but it will require you to take more chances, come out of your shell… and of course, work very hard.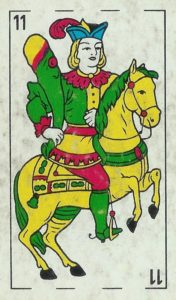 Important Card Combinations
The Knight of Wands pairs well with cards related to travel or journeys. Since Knight cards are full of action, they will contradict and override the meaning of cards related to stagnation or slowness.
Knight of Wands and World
You're going to travel to a fun and exciting place. No matter what the destination is, you will connect with the local culture and broaden your understanding of the World.
Knight of Wands and High Priestess
You've been intentionally isolating yourself in order to harness your inner creativity, free from the distractions of the outside world. The High Priestess card indicates that this retreat will allow you to produce your most powerful work yet.
Knight of Wands and Ten of Cups
This combination represents embarking on a spiritual journey with someone close to you. Whether it's a friend, lover, or family member, one thing is clear — this journey will leave both of you feeling more fulfilled and content. In this context, the Ten of Cups is an excellent omen.
Knight of Wands and Six of Swords
A new cultural influence will make its way into your life. Whether it's a new friend you make or a subculture you venture into, your sense of identity will strengthen and you'll feel more self-assured.
Yes or No Questions
Above all, the Knight of Wands is ambitious and determined. No matter what challenges come your way, you will find a way to overcome them. Your answer is yes.