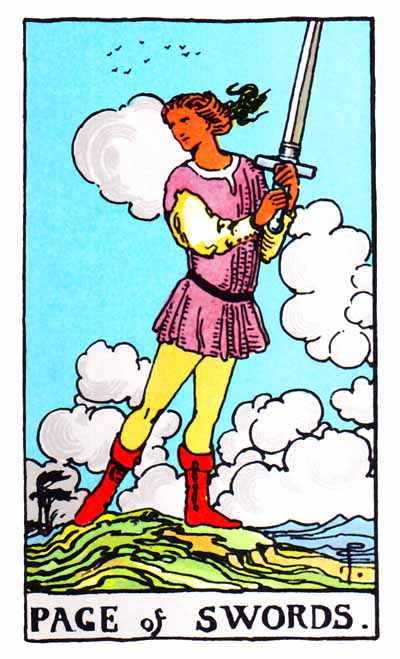 The Page of Swords Tarot Card's True Meaning: Love, Health and Money
The Page of Swords card is a sign of diplomacy and energy. It represents a wealth of mental energy best expended by following your curiosities to the rich answers they'll inevitably lead you to.
Element: Air
Planets: Mercury, Venus, and Uranus
Astrological signs: Gemini, Libra, Aquarius
Key dates: Autumn
Visual Elements and Symbolism
In the English Rider-Waite deck, a man holds a claymore to the air, his eyes fixed on a distant unseen opponent. He appears alone on a grassy windswept field, ready to take on whatever may come his way.
While other cards depict multiple figures or mythical beings, the Page of Swords features only a nameless man full of righteous conviction. The Page of Swords emphasizes the overwhelming power of an individual with a sense of purpose.
The Page of Swords Card as a Person
Most people would envy being compared to the Page of Swords. If you drew this card in a spread, you're likely a clever, curious person who's always on the lookout for new information.
You always have one ear to the ground and know what's going on in your social circles. When people are looking to have a fun night on the town, they come to you for advice on the best places to hit up. Your charisma has helped you talk your way out of conflict and into high places.
upright
The Page of Swords Upright: Positive Meanings
The Page of Swords indicates that you're ready to take on complex problems and challenges. You will always come out on top thanks to your wisdom and knowledge.
While you are destined to succeed, do not fear surrounding yourself with allies. Your charisma can draw the best of the best to your side.
Love and Relationships
If you are in a relationship, you have been encountering a lot of friction as of late. You and your partner have a solid foundation to fall back on, but your small spats are unhealthy and will slowly erode this foundation if unchecked.
Find the root of what's causing these small arguments and address it with your partner. Honesty is always the best policy when it comes to love, and discussing your issues will help you to avoid future problems.
If you are single, you will need to be more outgoing in order to find a partner. Joining new groups and socializing will help you meet new people and form new bonds, and some of these may blossom into romantic relationships. Patience will be important to this process. No one forms deep emotional ties in a single night.
Career
You have a career path carefully planned out in your mind. Having laid out each step to your ultimate goal might seem like enough, but it is only the beginning. Executing your plan will require an endurance and strength that might be difficult for you to muster.
Remember that progress can be slow, but the journey itself is often more rewarding than the destination.
Money
You are overconfident about your financial situation. While you may feel secure in your methods and confident about your savings and budget, you should seek an expert opinion.
As a doctor can heal the body, a financial advisor can make sure your financial health is shipshape.
Health
While the Page of Swords may have little to say about your physical health, it does indicate exceptional mental strength. It may be time to revisit your old mental scars and try to put your demons to rest.
While it may be difficult, you have the strength to pull through and you'll feel better than ever once the dust settles.
reversed
The Page of Swords Reversed: Negative Meanings
When reversed, the Page of Swords is a particularly bad omen. You will soon receive bad news that will derail your plans. Further, your typically silver tongue might cause you trouble in the near future. Make sure to think before you speak and this may be avoided.
Love and Relationships
If you're in a relationship, your partner has been ignoring their duty to your mental well-being. Either through neglect or direct hostility, your partner has not been much of an ally as of late. They have only been adding to your emotional burden and this needs to stop.
Speak frankly and directly to your partner. Let them know you don't appreciate their lack of help as of late. If they are willing to help carry the load of your relationship, then you might be able to turn things around.
If you're single, someone who is already in a relationship is quite interested in you. They might even leave their partner to be with you. If you choose to pursue this relationship, it will be important for your love interest to come clean to their former partner.
Career
Your career goals aren't clearly defined and your impatience will cost you in the long run. You might be jumping from industry to industry or from one position to another.
Slow down and take the time to gain experience in one field. Focus on learning everything there is to know about your job and you will be rewarded.
Money
You will soon receive bad financial news. If you're prepared for this storm, you will weather through it, but you may need to rely on friends and family to help you out from time to time. Remember that there is no honor to be had in suffering alone needlessly.
Health
You have been feeling overly stressed and disconnected from your everyday life. This lack of control is both unhealthy and unsustainable. Try to slow your life down by taking on less responsibilities and work to regain control. This might require abstaining from a vice, perhaps alcohol.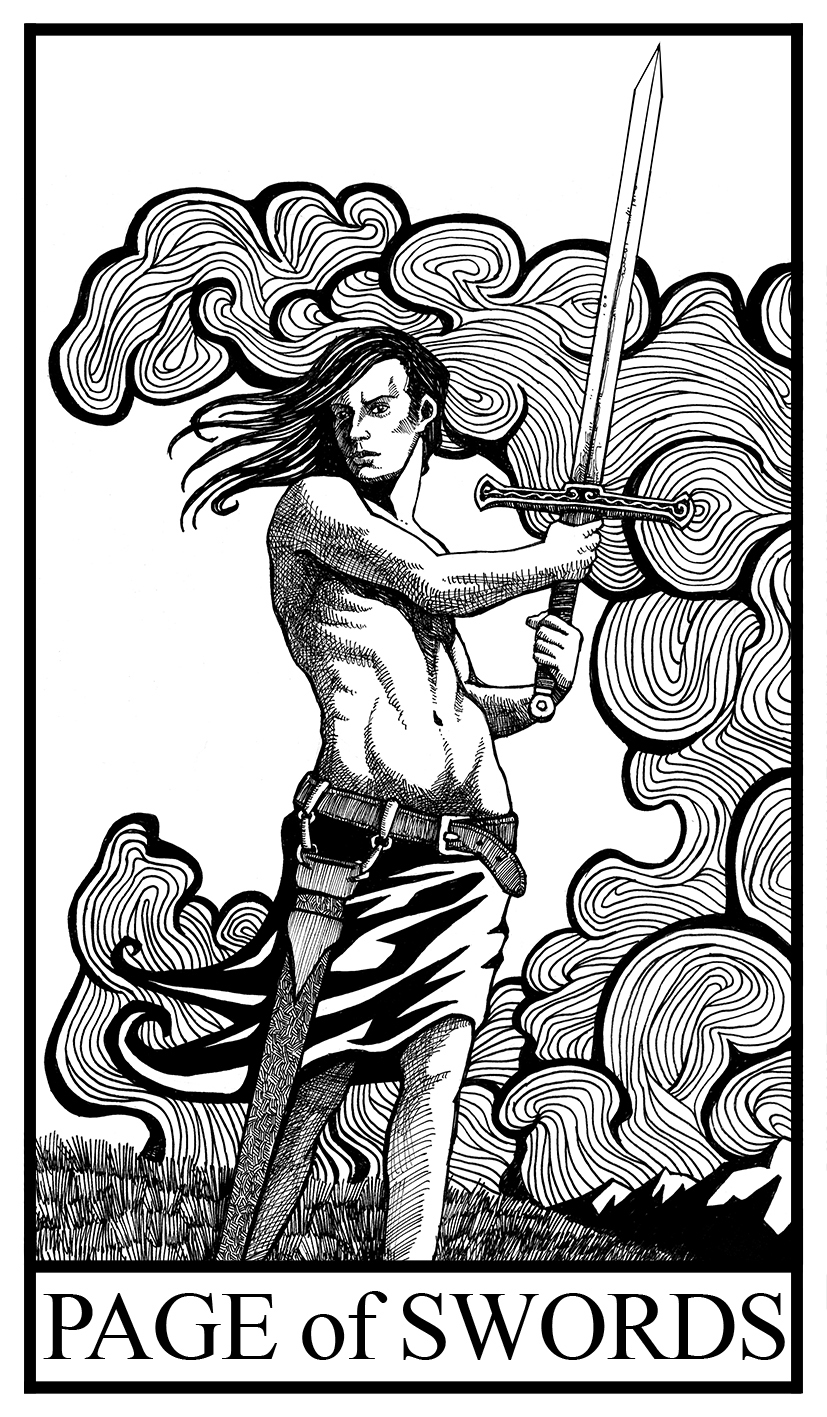 spreads
Your Past, Present, and Future
In the past position, the Page of Swords is a sign that the seemingly disconnected knowledge that you've gathered throughout your life is slowly leading you towards a place where this experience will all come together. Your interests might have seemed eclectic, but the wide net that you cast when accumulating knowledge will form the solid foundation of your success.
In the present position, the Page of Swords is a warning that unexpected news is coming your way. This news will derail your established plans and may cause havoc in your life if not properly managed. Take trial as a learning opportunity. While carefully laid plans are important, you must learn to roll with the punches in order to succeed. Making plans that are too rigid or rely on everything going perfectly is a recipe for disaster.
In the future position, the Page of Swords indicates that you have, or will soon experience, a period of boredom with the status quo. You will develop a deep desire for change and you should pursue this desire. Shaking things up might not sit well with those around you, but it doesn't have to. Stability is valued by many, but your need for something new is an important desire that you will regret ignoring.
Important Card Combinations
When combined with other Minor Arcana, the Page of Swords' aspect of mental strength and charisma will shine through in different ways. The power of other cards will indicate which avenues will provide the quickest route to success and happiness.
Few card combinations temper the great expectations that the Page of Swords brings.
Page of Swords and Eight of Wands
On its own, the Eight of Wands represents change and a journey of discovery. Both the Page of Swords and Eight of Wands focus on an appreciation of new ideas.
When present together, the pair indicates you will come into contact with a new form of art that will move you deeply. This could be art in the form of music, literature, or a visual art that's either entirely new, or at the very least, new to you.
Page of Swords and Four of Swords
The Four of Swords shares a certain similarity to the Hermit, but the two should not be mistaken for one another. While both cards embody solitude, the Four of Swords is more about exile and contemplation.
Like Napoleon on Elba, you calmly plan your grand return and victory. When combined with the Page of Swords, your plan will be well constructed and you will win the day through your charisma.
Page of Swords and Knight of Cups
Alone, the King of Cups is an indication that you are emotionally wise and compassionate. This pairing emphasizes both cards' element of diplomatic wisdom. You will find success in navigating the tension between two groups or two people that are in conflict with one another. You are a peacemaker, and with your help their relationship will improve.
Page of Swords and Page of Pentacles
This duo is particularly fortuitous for anyone who happens to come across it. The two Pages share many similarities, particularly when it comes to mental strength. The Pentacle counterpart to the Page of Swords represents success in scholarly ventures and an ability to express impactful new ideas. When combined, the pair indicate you will be financially rewarded for your novel ideas.
Yes or No Questions
Though some readers view the Page of Swords as a no, this Minor Arcana is typically viewed as a yes, particularly when it comes to mental trials or tests. If your question is in regard to an intellectual pursuit, drawing the Page of Swords is a good sign that you're prepared to meet whatever comes your way.