The Three of Cups Tarot Card's True Meaning: Love, Health and Money
The Three of Cups tarot card is a celebratory card that calls for a toast with friends and family in moments of personal accomplishment. In the upright position, take it as a sign that success is best when it's shared.
Element: Water
Planet: Mercury
Astrological sign: Cancer
Key dates: July 2nd to July 11th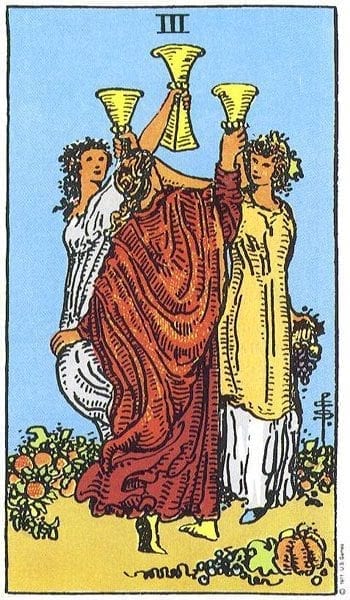 Visual Elements and Symbolism
This card depicts three women dancing together in a circle as they are raising their cups for a celebratory toast. There is an emotional connection between these women built on respect, honor, and appreciation for one another.
The wreaths in the women's hair and draped gowns are typical garb during a time of triumph and celebration. The ground surrounding the women is covered in harvested fruits and vegetables, symbolizing growth, wealth, and wellness.
The Three of Cups as a Person
The Three of Cups as a person has an affectionate and fun personality. As a result, they typically have large groups of friend whom they love to party with, as long as they are the center of attention. This person will turn heads wherever they go because of their style, beauty, and charisma.
It's hard not to feel happy around a Three of Cups person because they are constantly spreading positive energy and are always looking to expand their network of friends. This person's exciting lifestyle may cause those around them to feel envious. It seems that no matter where they go, they always land on their feet and find a way to make new friends.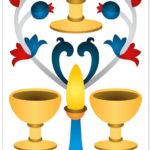 upright
The Three of Cups Upright
When the Three of Cups appears in a tarot reading, it is time to come together with your closest friends and have a good time.
This could be manifested through a girl's night out, a vacation, or the start of a weekly book club or dinner party. Joining forces with like-minded women can create a positive environment where creativity will flourish.
Love and Relationships
There is a feeling of success in love surrounding you with this card. In the case of a romantic relationship, it is time to find a partner with whom you share the same outlook on life. This can be the start of a truly passionate relationship built on common interests and mutual respect. Because of your communicative personality, it won't be hard to maintain an open and trusting relationship.
This could also be a time of achievement with your friends of business partners. The more you communicate within your relationships, the more success you are bound to achieve.
Career
If you are not already part of a business partnership, expect one to come your way very shortly. These individuals will have a similar vision to yours when it comes to career goals and the ways to achieve them. If you are already in a business partnership, it may be time to celebrate the bond between you and the goals you have achieved so far.
Money
It is time to enjoy all that you have accomplished. You've worked hard for what you have — spend a little to properly celebrate your success. There may be an unforeseen increase in your income right now. While you should enjoy it, also remember to save some for the future, in case of a rainy day.
Health
During this time of celebration, you may find yourself overindulging. Some do so with excessive amounts of alcohol, drugs and sex. There is no harm in unwinding with a drink or two but in the long run, you must find healthier ways of relaxing and celebrating. There will be a time of hard work coming your way — you will need to be well rested and ready for the challenge.
reversed
The Three of Cups Reversed
The Cup cards all have a direct influence on your emotions. When they are reversed, it is often a sign that you need to refocus and balance your emotions.
With the Three of Cups, this means that it's time for you to control how you express love for others as it has been taking an emotional toll on you. This may even have repercussions on your creativity at work, preventing you from expressing yourself and your passion through that channel.
When reversed, this card implies excess. Do not put yourself in extreme situations from which you are unable to recover. Remember all of the things you have to be grateful for, even if you feel they are absent from your life right now. Take a deep breath and know that you are not stuck in this moment in time.
Love and Relationships
If you are single, the Three of Cups in the reversed position represents a short term fling that will fizzle out very soon. It can also indicate a reunion with someone from your past, which you will quickly realize was for good reason.
If you are in a relationship, you may be headed for a cancelled celebration or engagement. The Three of Cups can also indicate that a third party is trying to cause trouble in your relationship through sabotage and rumors. Watch your back if you receive this reading, as you may be headed for an unexpected and unpleasant turn.
Career
There may be a team member or colleague in your workplace posing as a team player while plotting to sabotage your work and success. Do not let gossip get to you, even when it feels overwhelming. The more professional and above board you remain, the better you will come out on the other side.
Money
Cancelled celebrations may be the cause of your financial stress. Weddings and engagement parties often come with hefty non-refundable deposits, so brace yourself for some financial turbulence. On the other hand, this can be a sign that you are overindulging during all those parties and celebrations. Curb your overspending before you get in over your head.
Health
You are partying too much and it is affecting your health. The late nights and substance abuse are causing your body to work in overdrive. The supporting cards in your reading would need to confirm this, but it may also be an indication of a miscarriage or termination, which can cause severe grief and stress.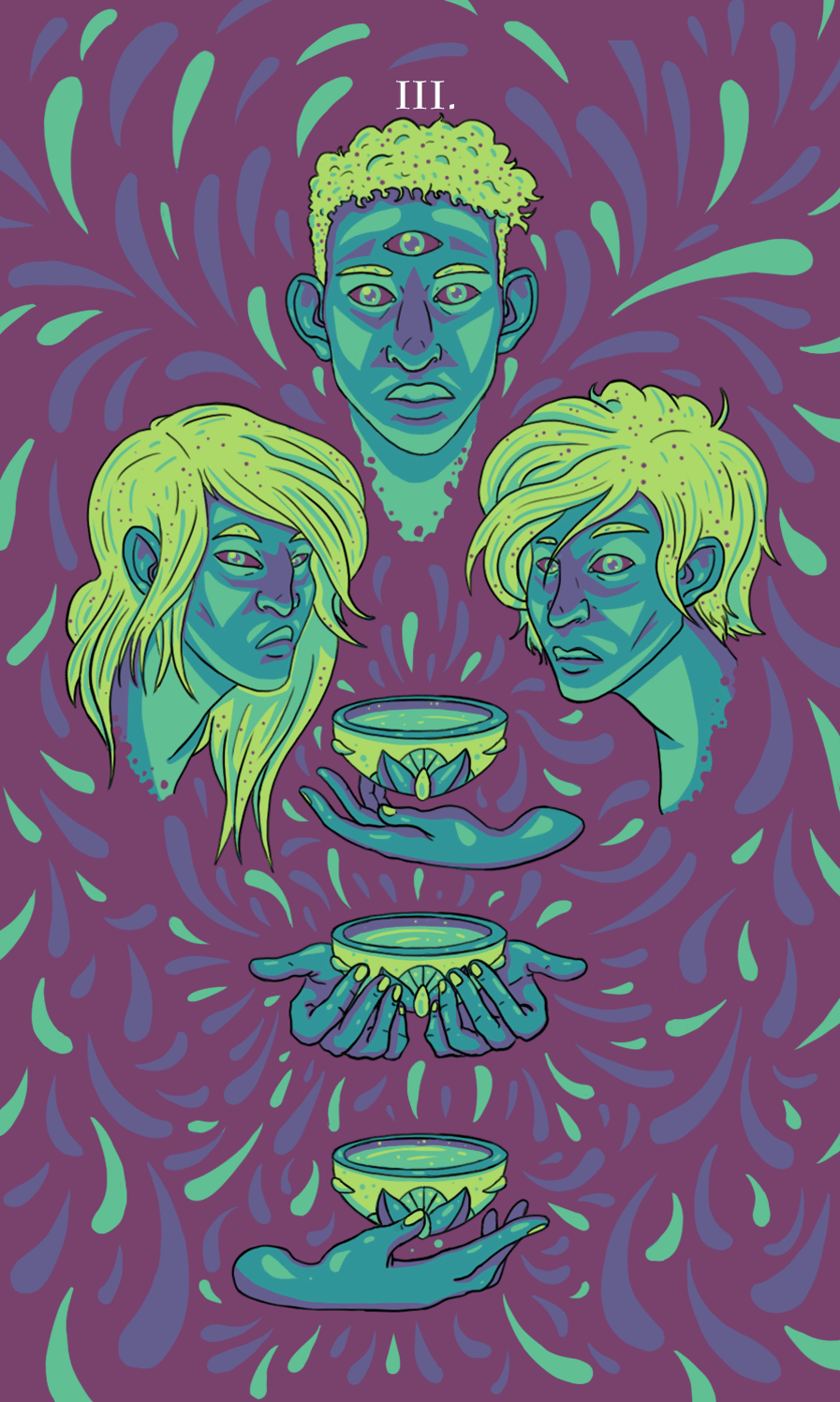 spreads
Your Past, Present and Future
The Three of Cups in the past position represents a period during which your productivity was at its highest. Those efforts are now to pay off. You may have achieved a goal in your workplace that others admire you for, or helped someone overcome a hurdle in their lives. Remember that your past work can positively affect your present — continue working hard so that you will keep reaping those benefits in the future.
In the present position, the Three of Cups means that you have just accomplished something great. Whether it be a personal project or a time consuming professional assignment, it is finally over. The harvest shown surrounding the three women symbolizes the celebration after a harvest. While you may not be harvesting produce, the work you put in throughout the year will bear fruit and call for a celebration.
The Three of Cups in the future gives you something to look forward to. Your efforts will pay off as long as you keep the balance between work, rest and play. It may be beneficial to reconnect with friends or colleagues from your past, as you never know where they could lead you in the future.
Important Card Combinations
The Three of Cups brings celebration, friendship, and financial gains to a reading. The three is a sign of things coming in multiples, whether that be in the way of relationships or personal accomplishments.
Three of Cups and Knight of Swords
This combination represents a man trying to infiltrate a female friend group. The Knight of Swords is a sign that bravery and action are needed. While he brings adrenaline and excitement to the mix, make sure that it doesn't cause jealousy and destabilize your sisterhood. Your love of building new connections could lead you to be manipulated by this cunning man.
Three of Cups and Wheel of Fortune
This is the sign of a lucky break. Celebrations are definitely in order as you have nothing but good fortune coming your way. Fortune favors team players who are winners and content with their independence. You will enrich and be enriched by the like-minded people that surround you.
Three of Cups and Five of Swords
The Five of Swords card represents a deep-rooted conflict in your life. There is jealousy in the air in one of your relationships — possibly your significant other that feels threatened by your bond with many different friends. Your sisterhood will help you heal from this abuse and shield you from any further bullying.
The Three of Cups: Yes Or No?
The answer you seek is yes. The Three of Cups brings an abundance of love and joy. It represents positive gatherings and the celebration of close relationships.